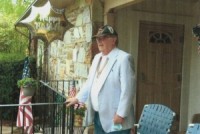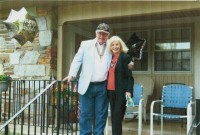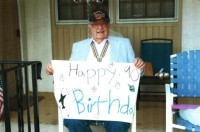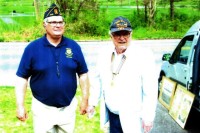 On April 22, the Cacti Association was contacted by Dianna Berger, Naples, Fl., whose father Rudy Berger served with the Cacti in Korea. Dianna was organizing a drive-by at her father's house in Doylestown, PA to celebrate his 90th birthday on May 1, 2020. She ask if we wanted to be part of that. Tom Gragg, living only a mere 100 miles away, agreed to participate and send us his description of the event along with any photos.

In celebration and appreciation of his service and birthday; the community of Doylestown surprised Rudy with a car/truck caravan past his house. Attendees included family, friends, and the following:

The Bucks County Firefighter and EMS led by David Hathaway.
The Bucks County Department of Military and Veteran Affairs; Dan Fraley.
American Legion Post 210 commanded by Chris Suessenguth.
Local TV Channel 17 filmed the celebration and televised it on May 4.

Congressman Brian Fitzpatrick sent a Flag and Honor Citation along with having a personal Zoom Video chat with Rudy.

Among the well-wishers were Lois McLohon, Rudy's long time girlfriend, and her daughter Kim Brown. Rudy's granddaughters Aubrey and Adrianne were both in attendance along with his great grand kids, Kolton, Kira and Gemma. Among the vehicles involved were a privately owned military jeep, a 3/4-ton military truck and a 5-ton "Mission Barbecue" military truck (reconfigured 5-ton fitted with large BBQ grill in the bed).

A big thanks to Tom Gragg for his gracious participation and this summary. Tom also shared with Rudy a portion of his world-famous "Cacti Collection".

And a Cacti Hand Salute to daughter Dianna Berger who not only conceived the grand idea, but coordinated it all "long distance" from Florida!

Accompanying photos by John Crawford.