Cacti Vietnam Photos
Ronald Johnson, 1967-68
|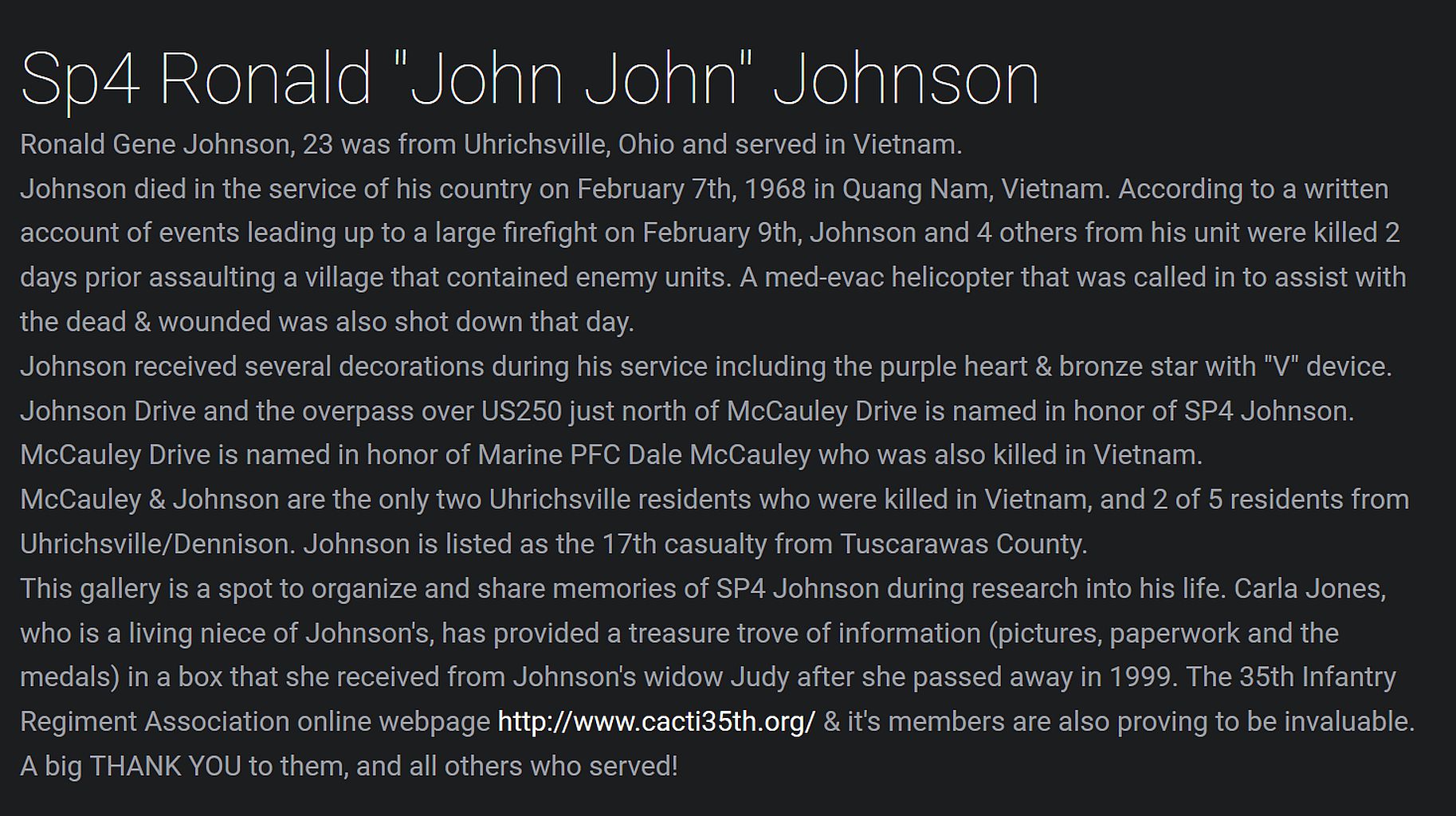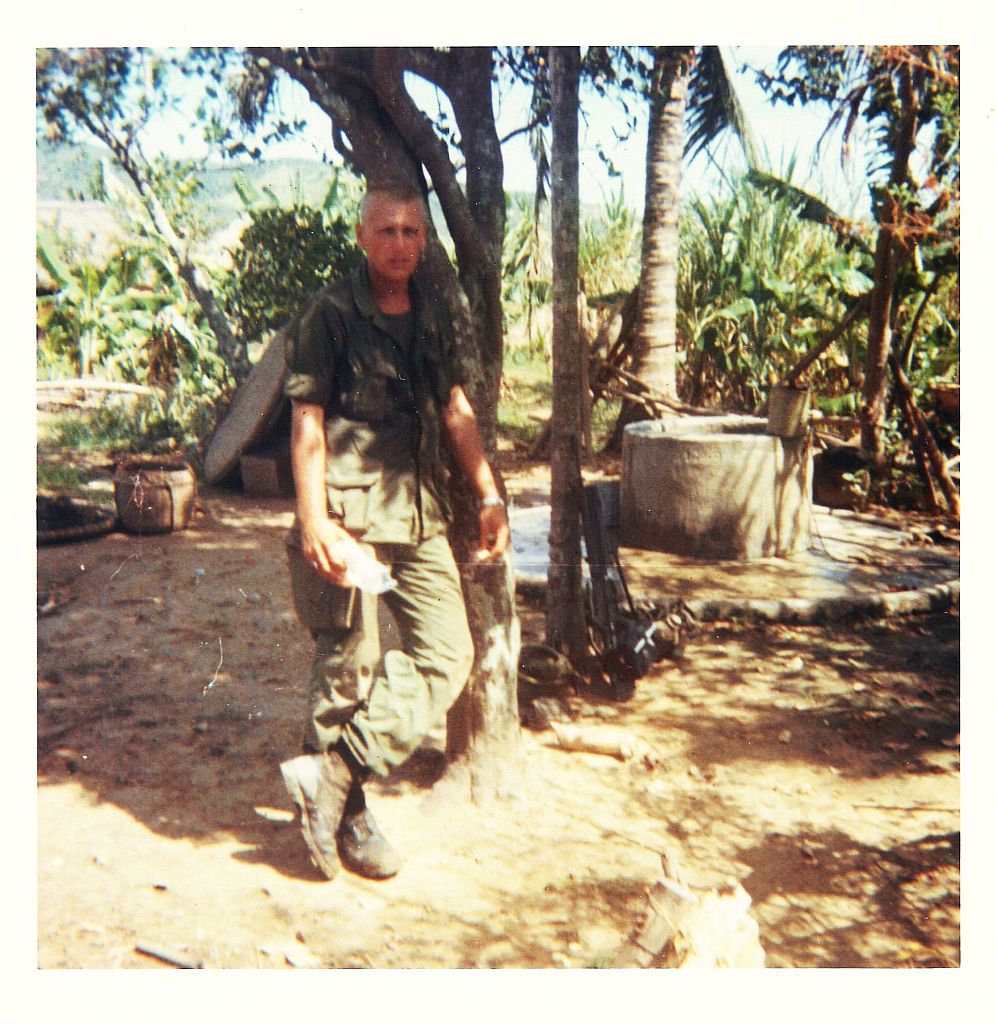 Ronald Gene Johnson. March 24th 1944 - February 7th 1968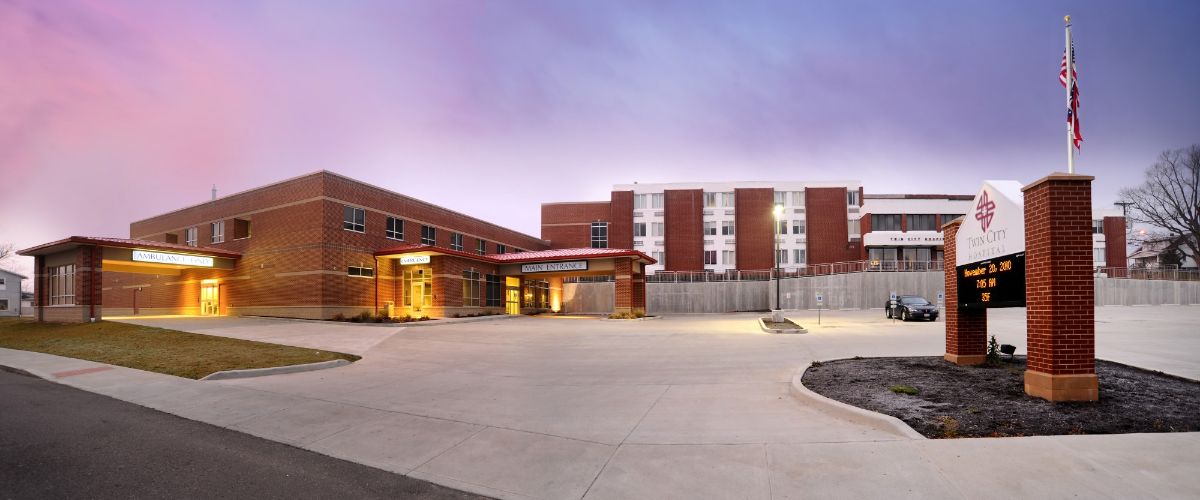 Trinity hospital, Twin City. Originally "Twin City Hospital" in Dennison, Ohio. The original section of the hospital is that part that sits up on the little "hill" and has the vertical white sections. Ronald Johnson was was born at Twin City Hospital on March 24th, 1944 at 11:00am to Glenn E. Johnson & Ruth M. (Amos) Johnson. The hospital has gone through several modifications and additions, including an official name change since 1944. The above photograph was in 2009 after the new emergency room and patient rooms were added.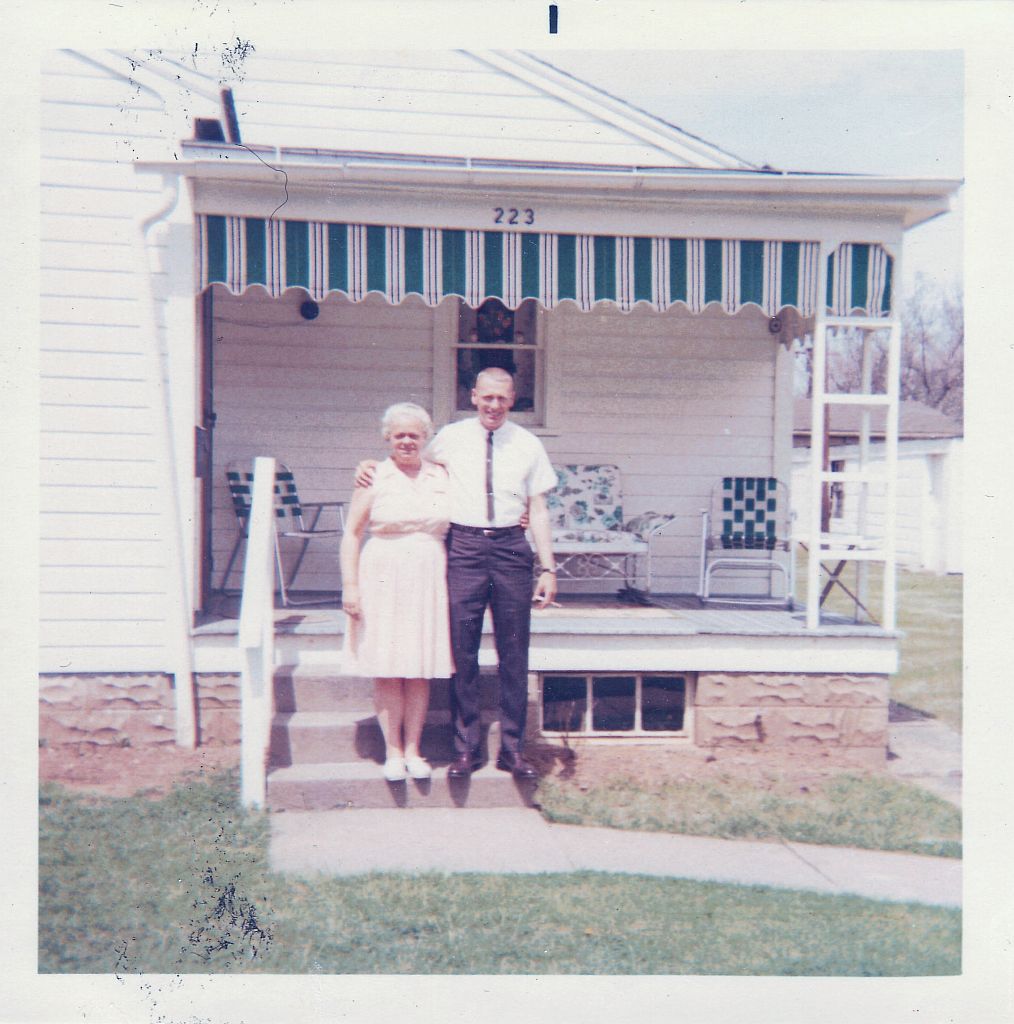 Ronnie & his mother Ruth. Johnson's parents lived at 223 W. 7th St. in Uhrichsville. The house is still there to this day and maybe 200 yards from his gravesite at the adjacent Union Cemetery.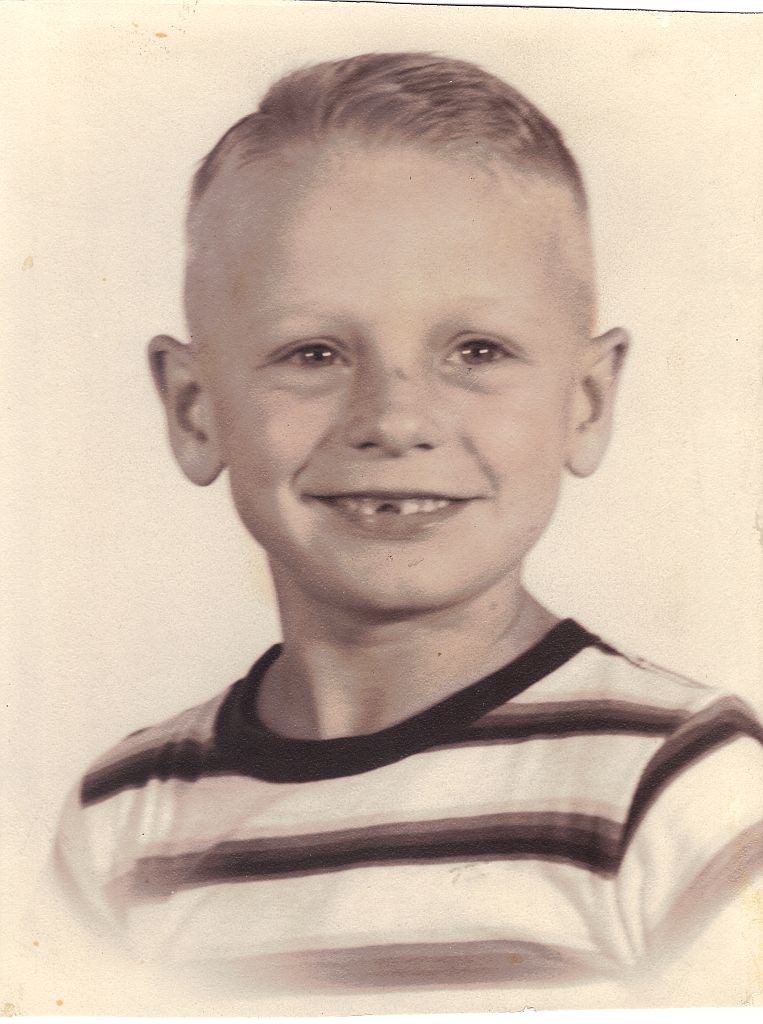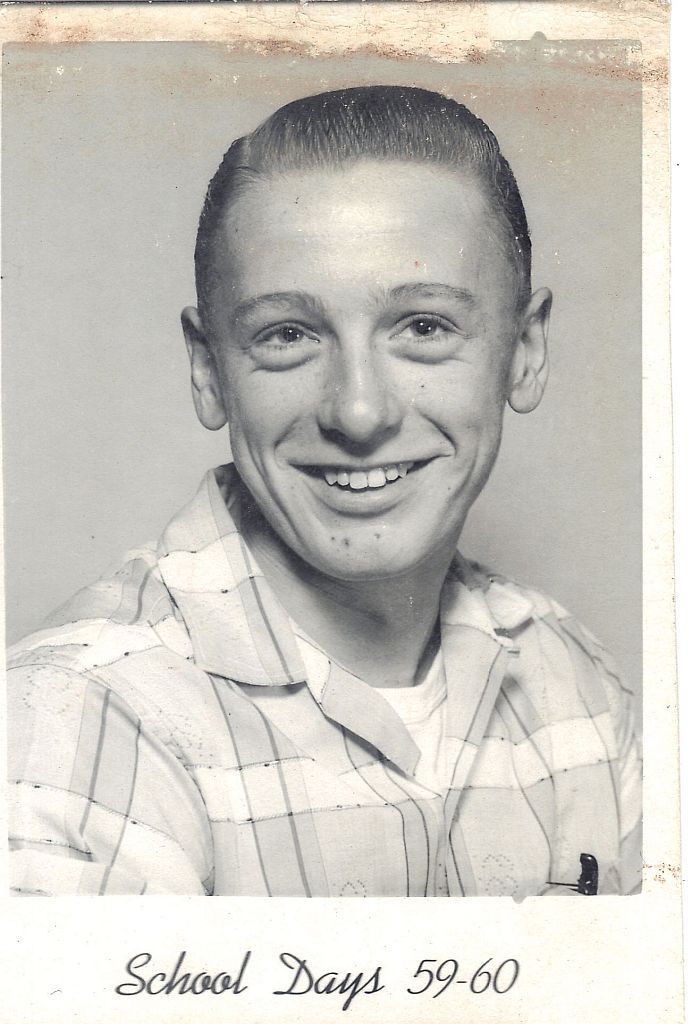 The 1959-60 school year. Ron would have been a sophomore.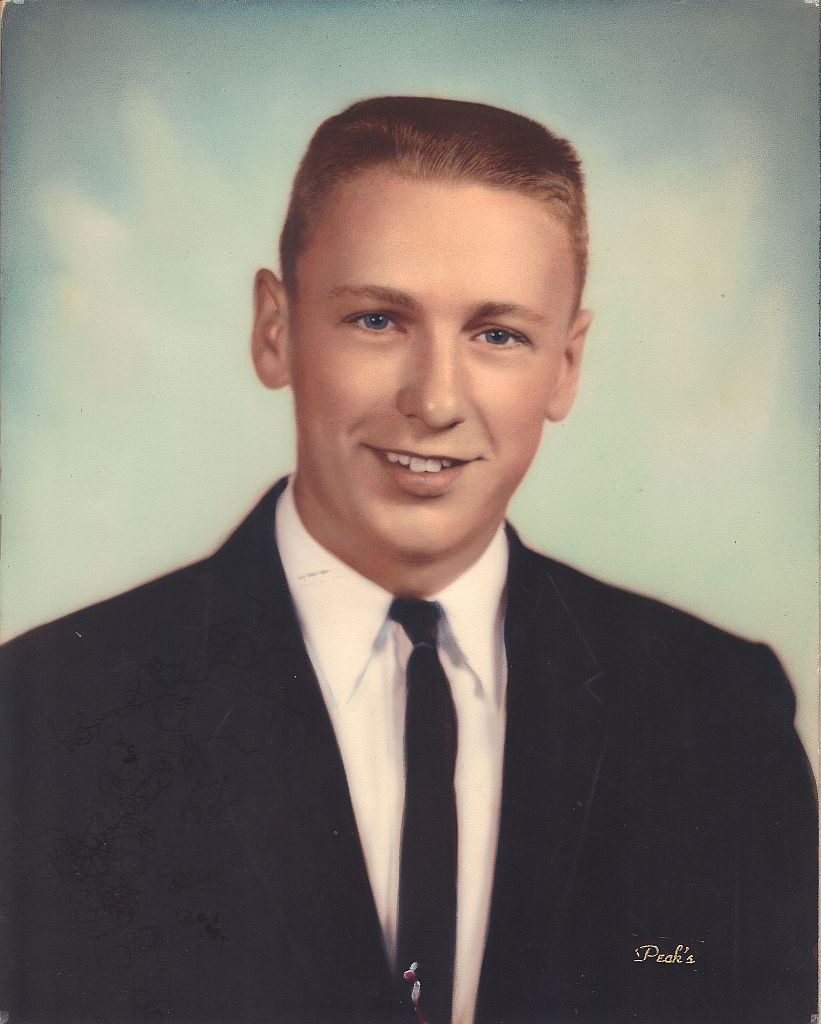 Ronald Johnson's senior picture. Johnson graduated from Uhrichsville High School (before the Uhrichsville/Dennison consolidation into "Claymont") in 1962.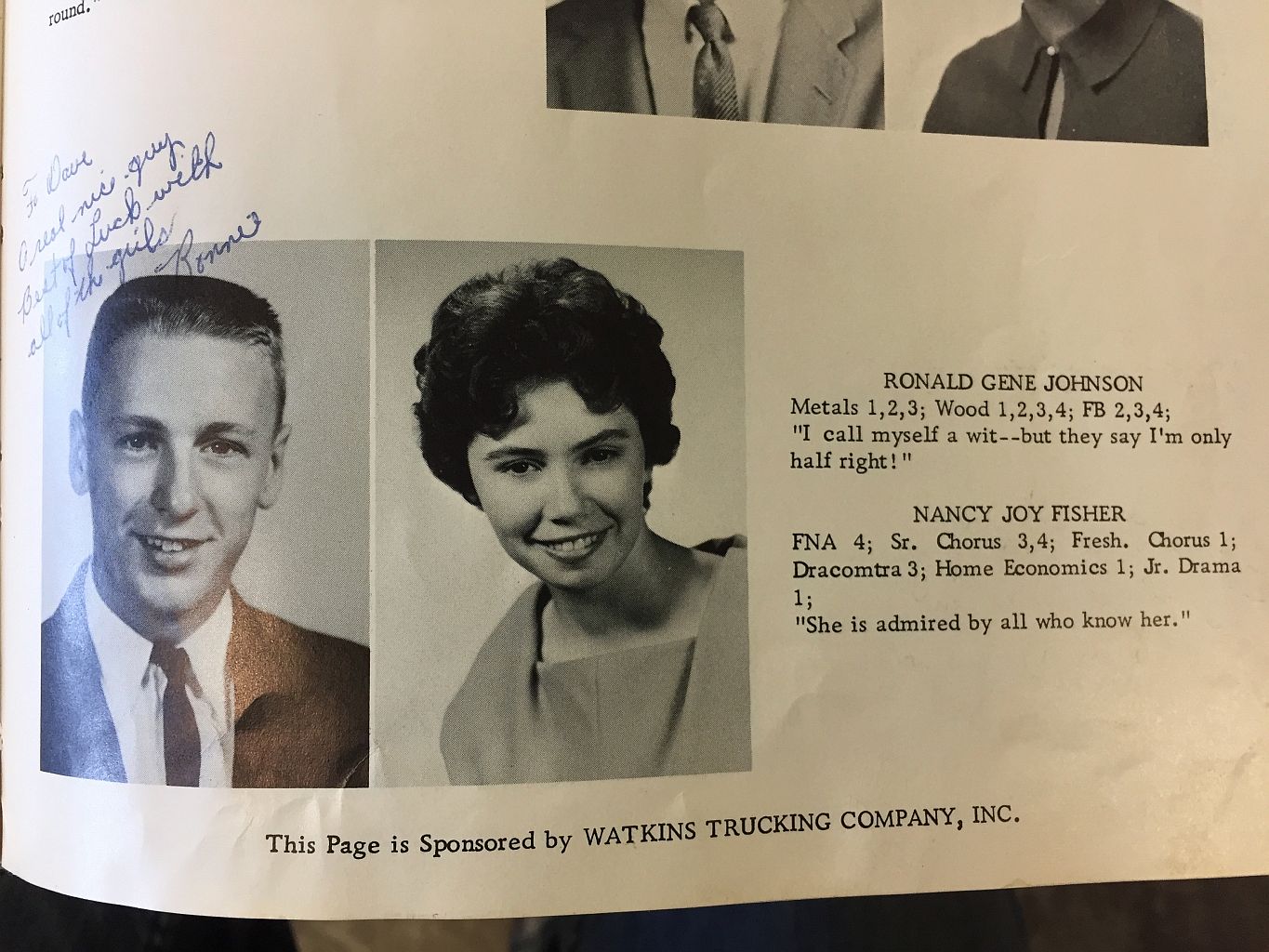 1962 Uhrichsville yearbook. "I call myself a wit-- but they say I'm only half right!" Classic....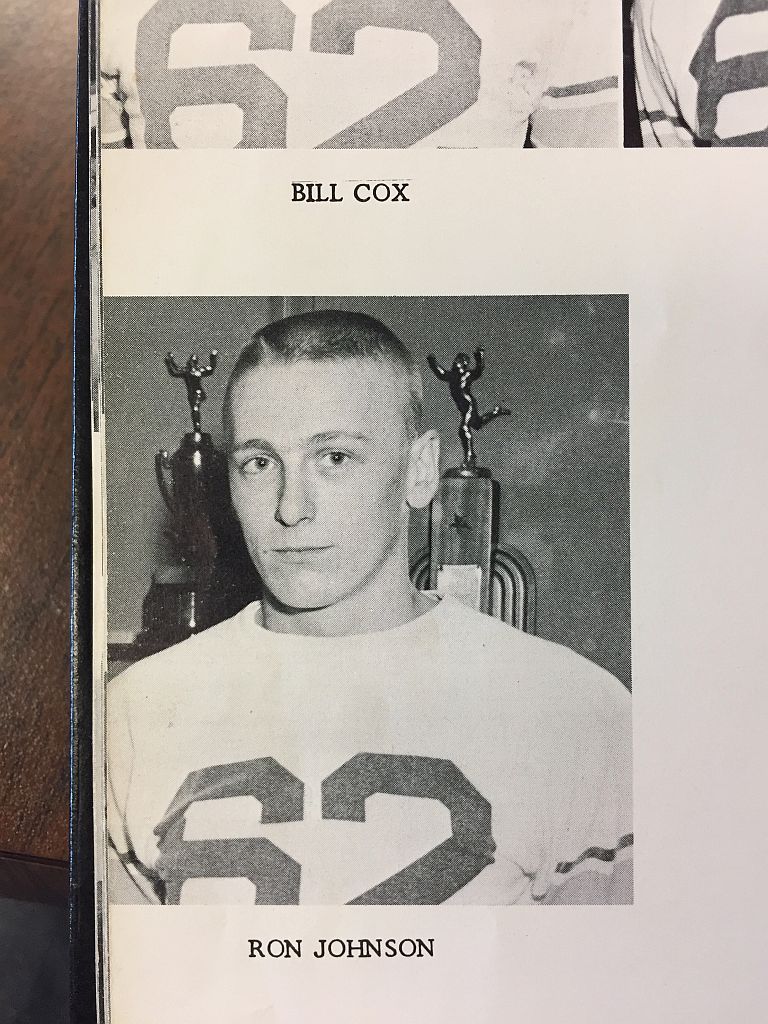 1962 Uhrichsville yearbook. As a note, "62" was not Johnson's jersey number. All of the seniors that year apparently had their picture taken with a "62" jersey. An article I read said that Johnson was a punter for the football team.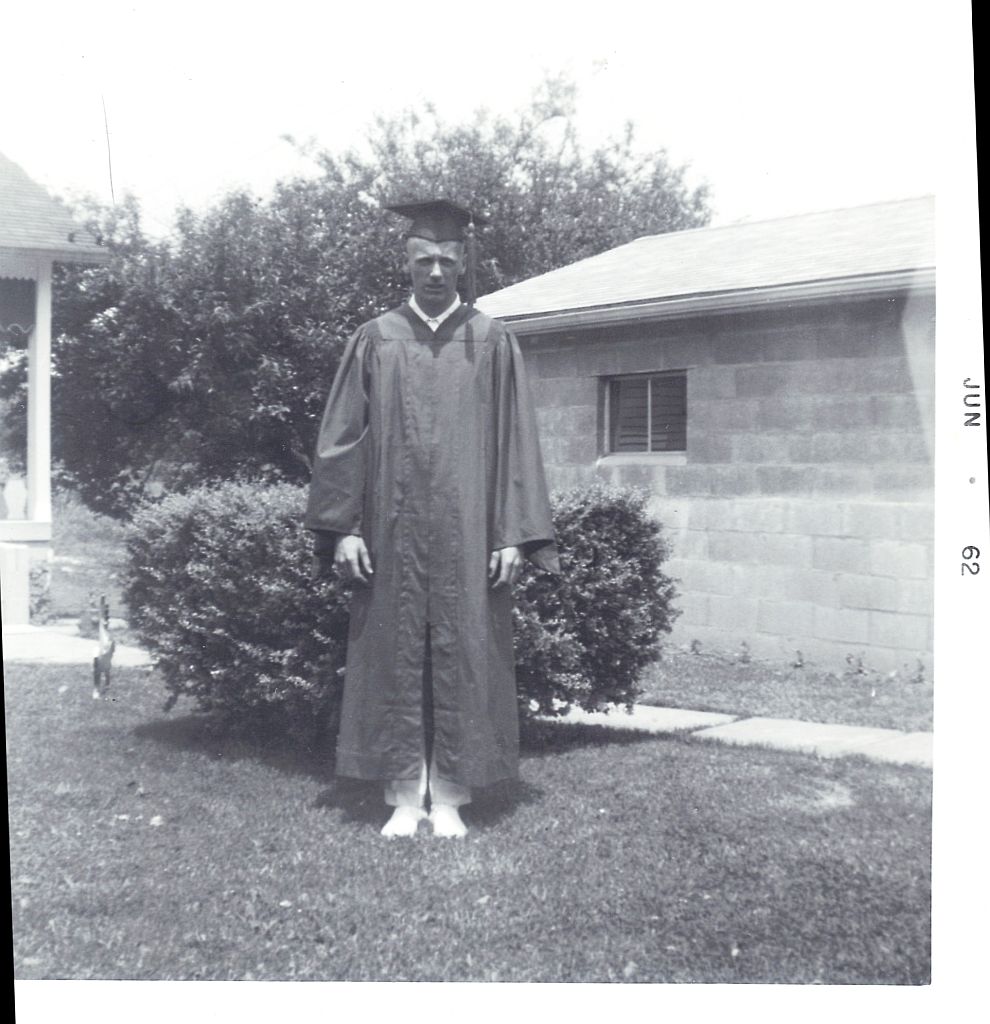 June 1962, Uhrichsville High School Graduation. I think every kid who has graduated high school has had to stand in their back yard for mom & dad to get their photo in their cap & gown. I think every kid who has had to stand in their back yard for this photo has had the same "just hurry up & take the picture Mom/Dad" expression.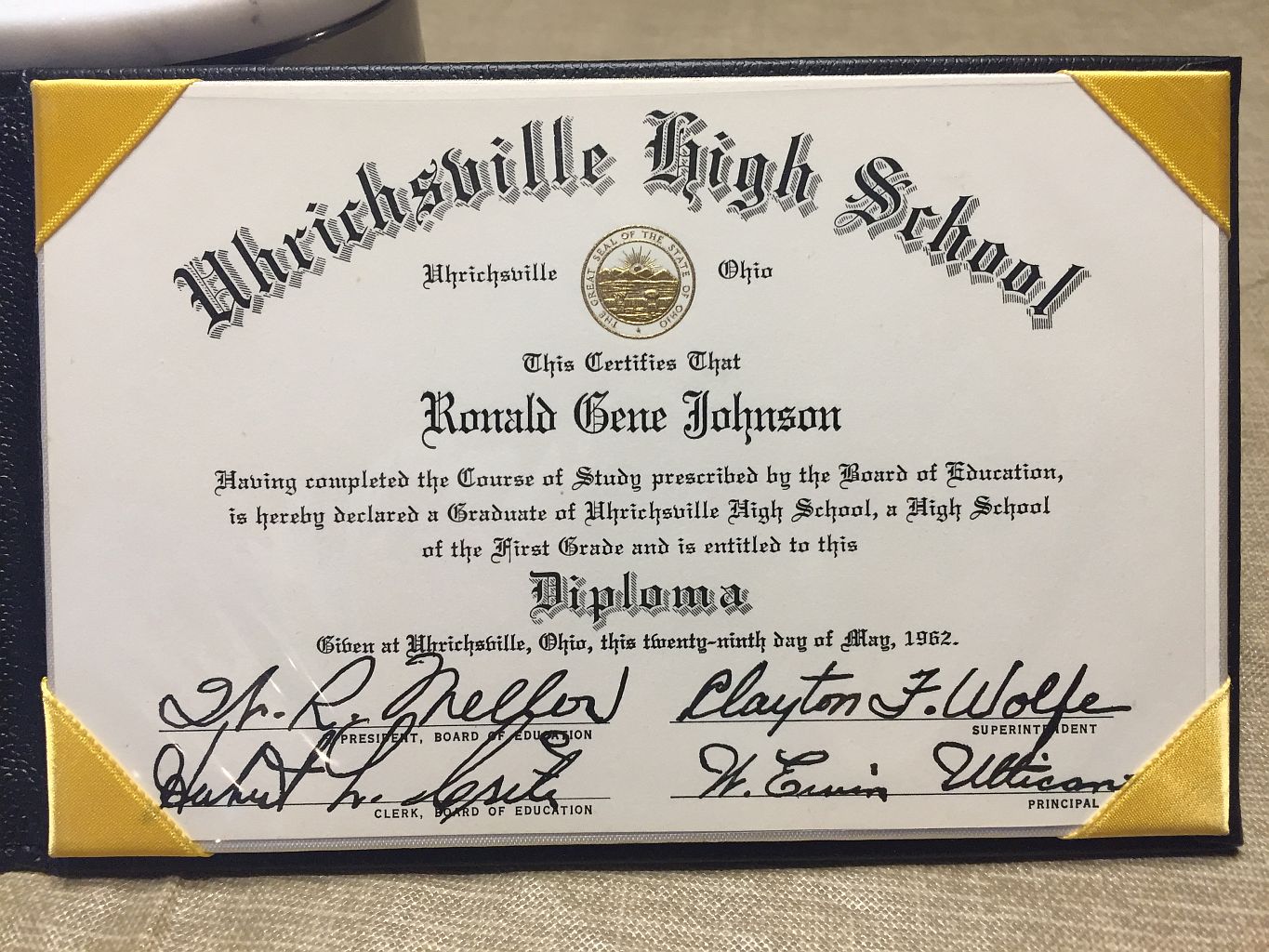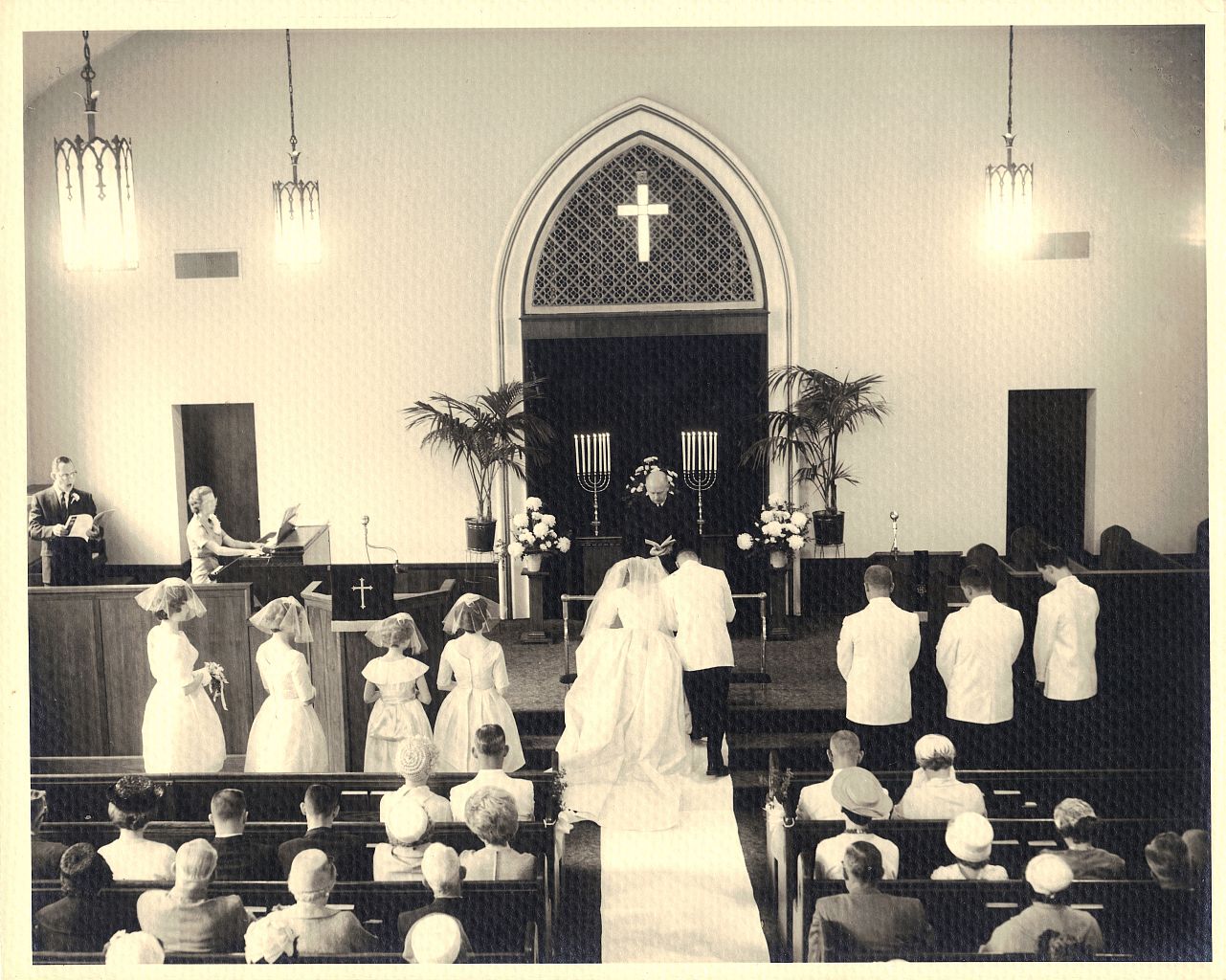 Ronald Johnson and Judy Lehman were married on April 13, 1963 at 2:30pm at the First Christian Church in Uhrichsville, OH.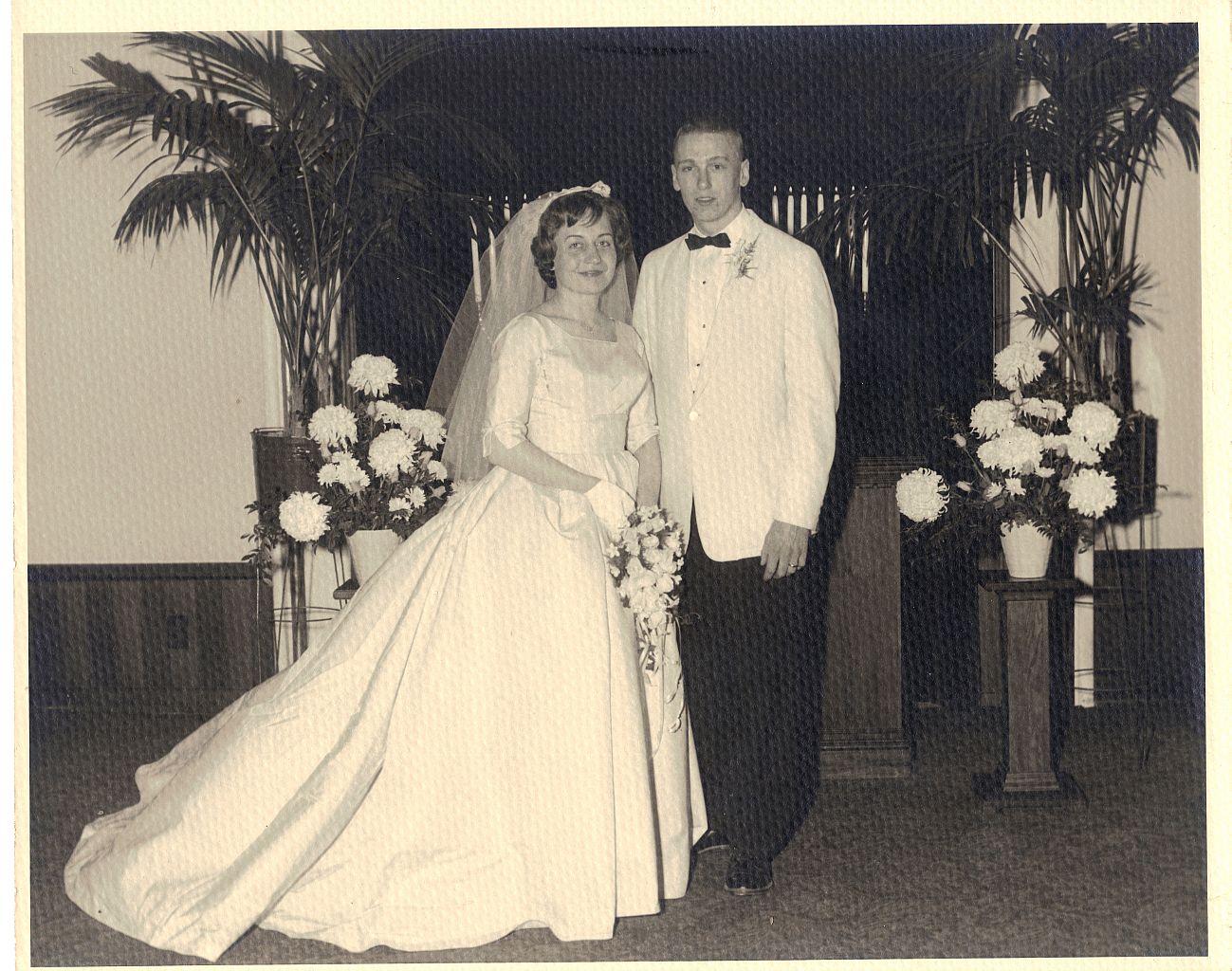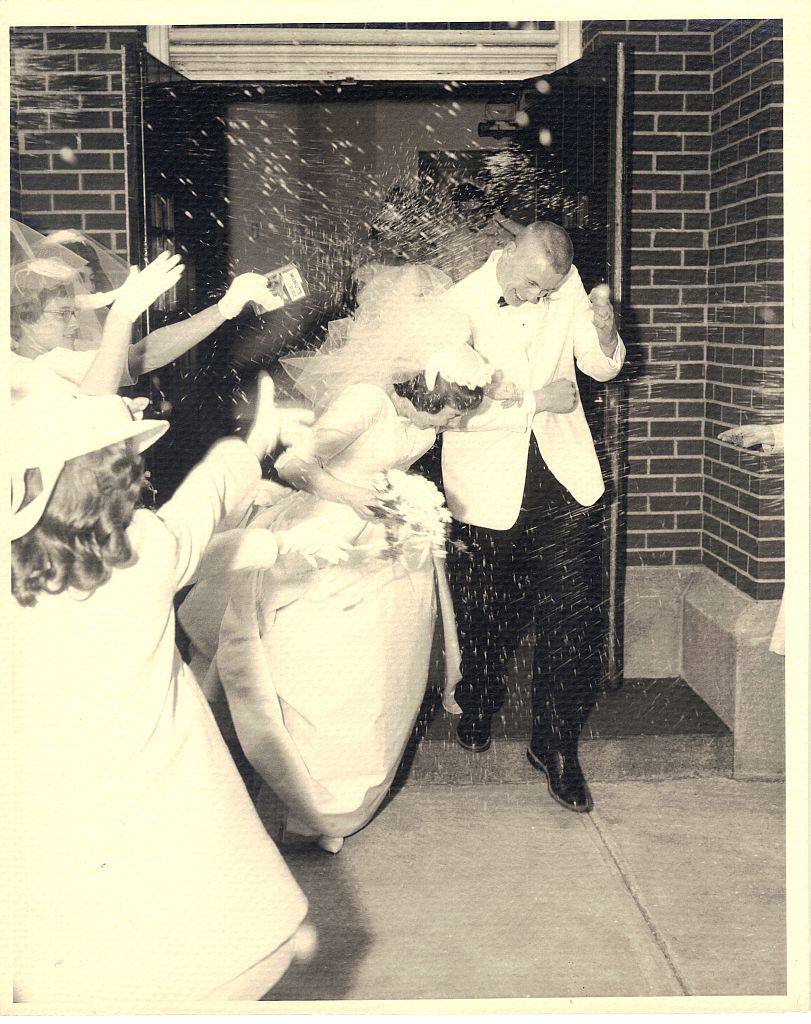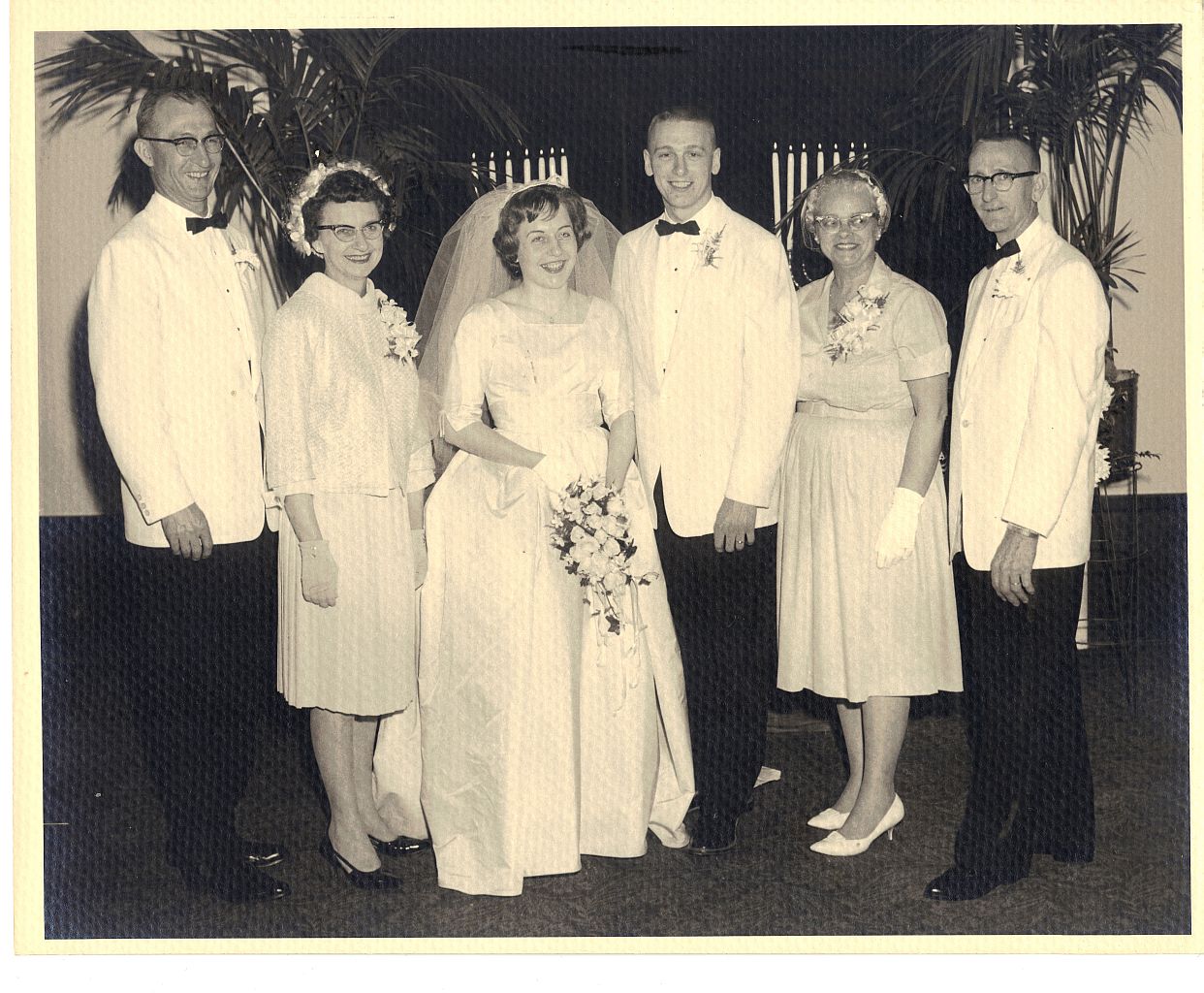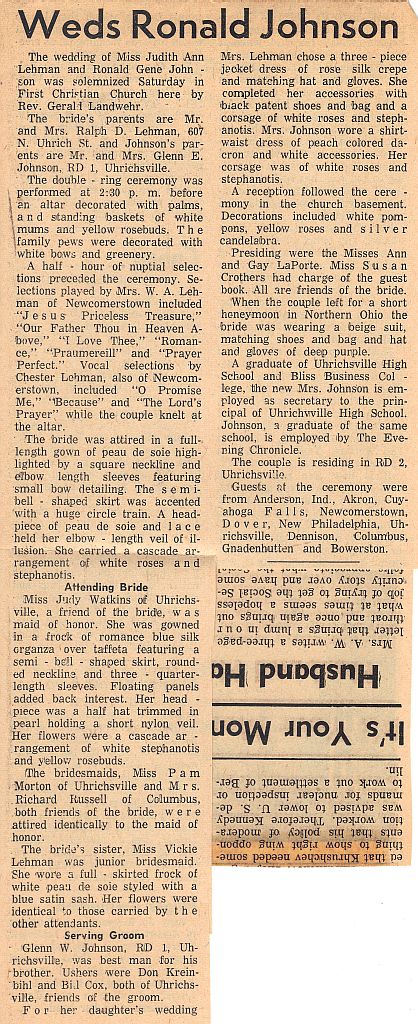 Judith Lehman weds Ronald Johnson. Newspaper article from the Evening Chronicle
As the wedding article stated, Judy Johnson graduated from Uhrichsville High School and then went on to Bliss Business College and was employed as a secretary at the high school. This photo was taken from the 1968 yearbook, and likely before the news that Ronald was KIA. Mike Trimmer said that 1968 was his first year teaching at the high school and can remember the day the messenger came and notified Judy. Trimmer said that Judy's screams filled the entire building and she ran out of the school, and that he can remember, she never came back to work.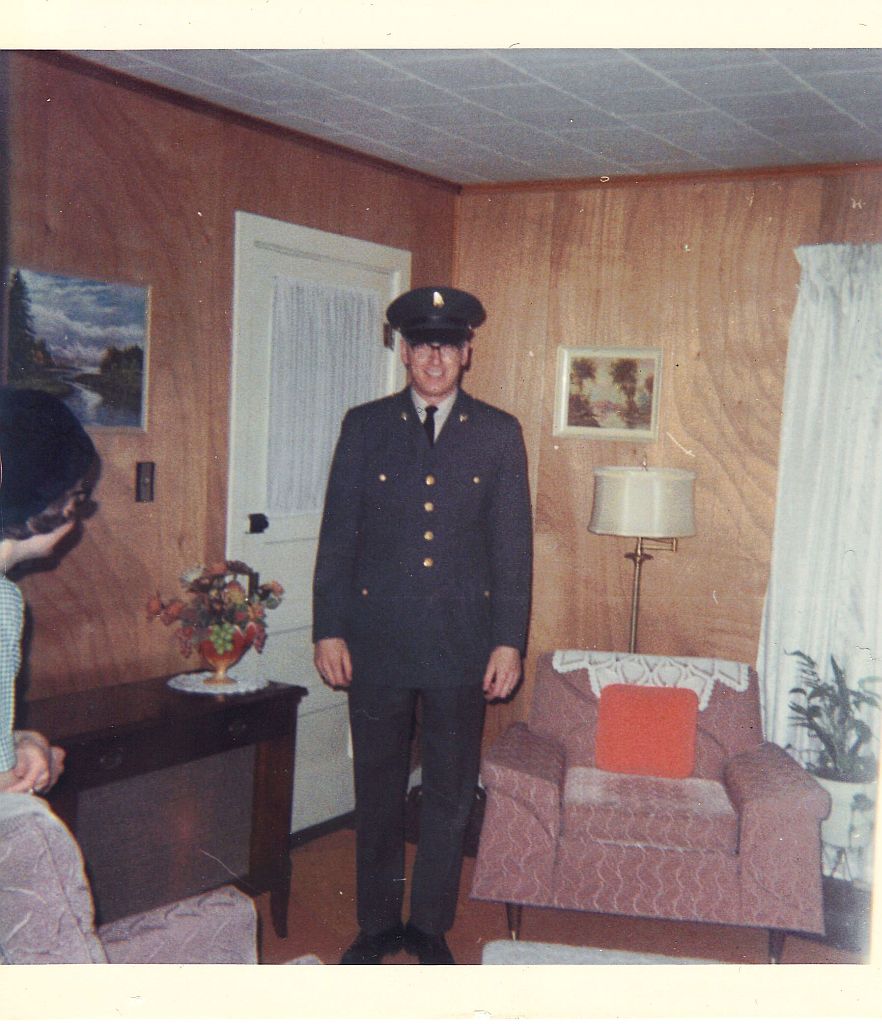 Johnson in his dress uniform at home. According to newspaper articles, Johnson entered the Army November 28, 1966. He arrived in Vietnam on May 10, 1967 and was to serve one year. He was killed on February 7th, roughly 3 months before he was to come home. It appears that he and his wife Judy spent time together in Hawaii in January 1968 while he was on leave.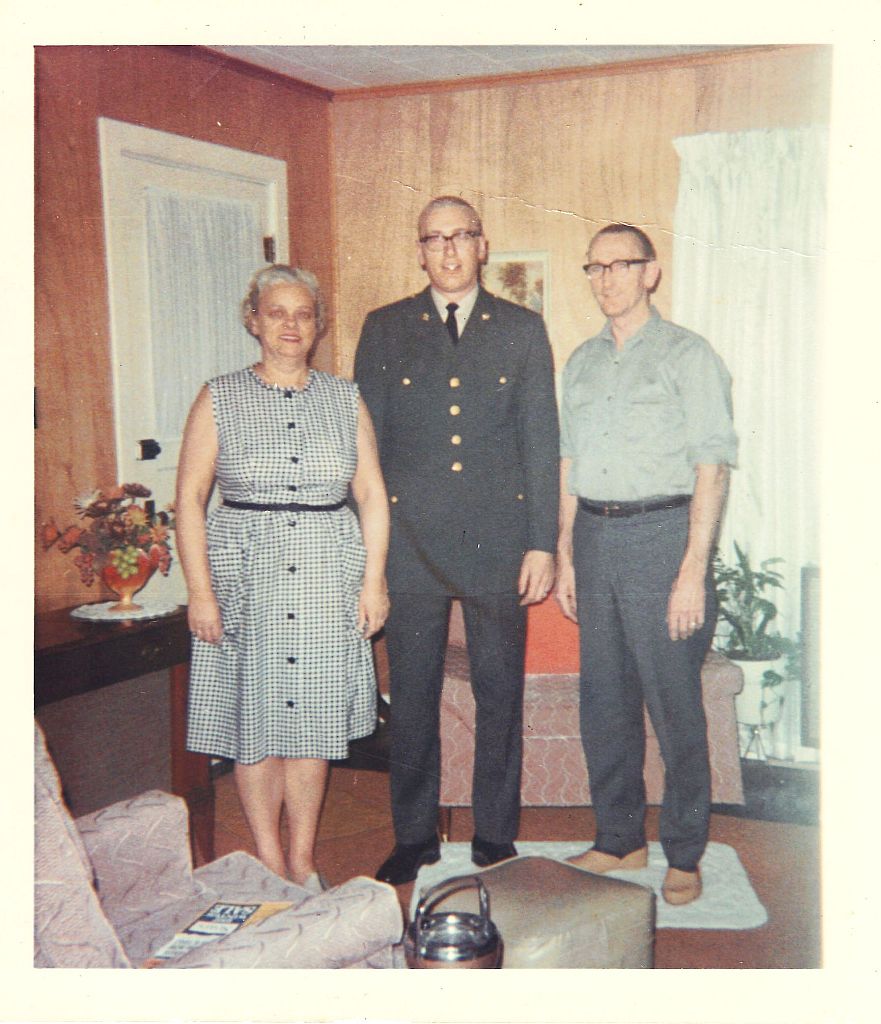 Ruth, Ronald & Gene Johnson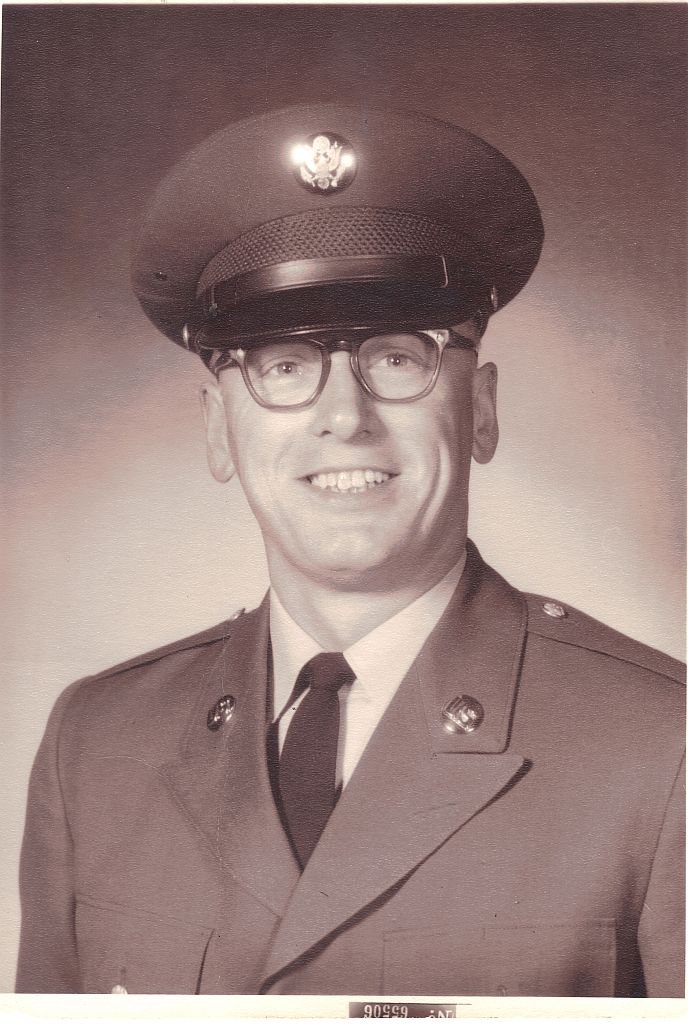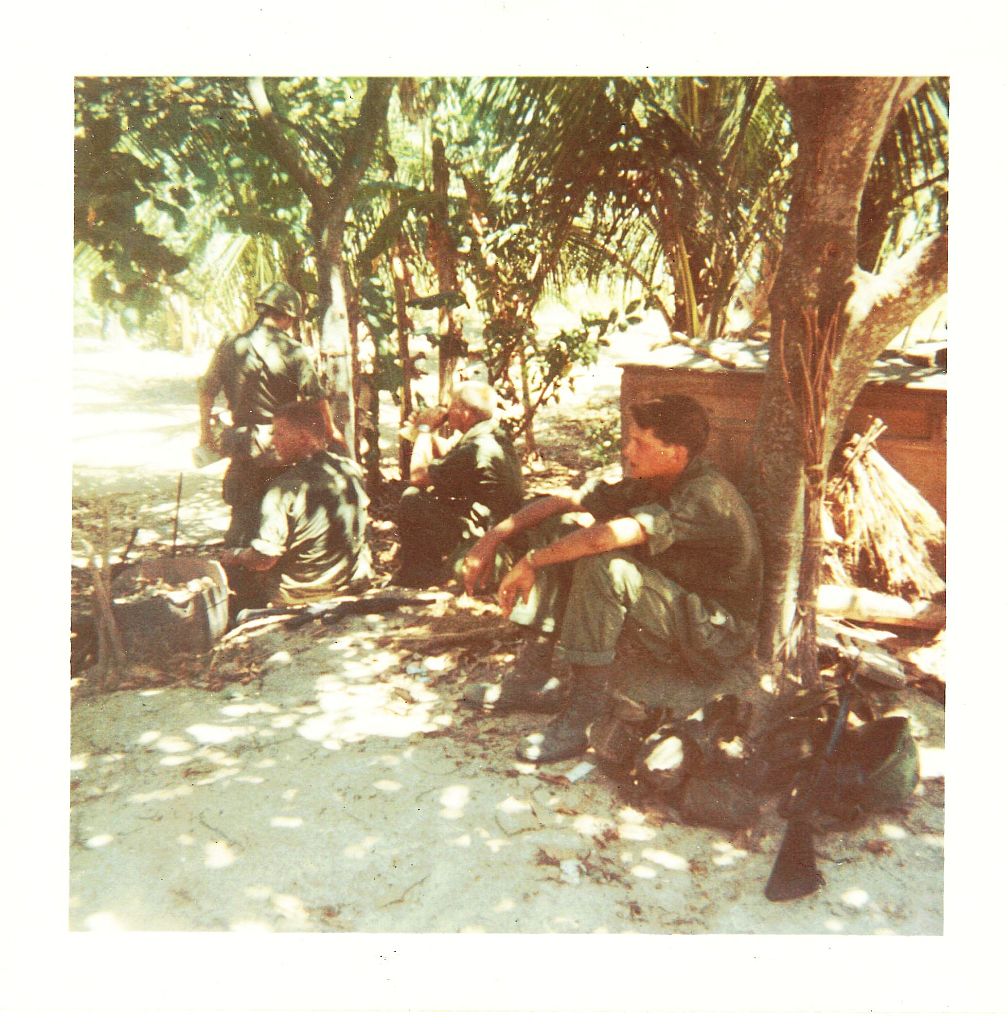 In the box of memorabilia of Johnson's that Carla Jones had, there was a photo album with close to 100 photos in it. After I uploaded them here, and after being in contact with former members of the 35th Infantry Regiment, one of it's alumni offered to try to enhance them. Art Hughes, a 35th IR alum who served in Vietnam, ran all of the photos through enhancement.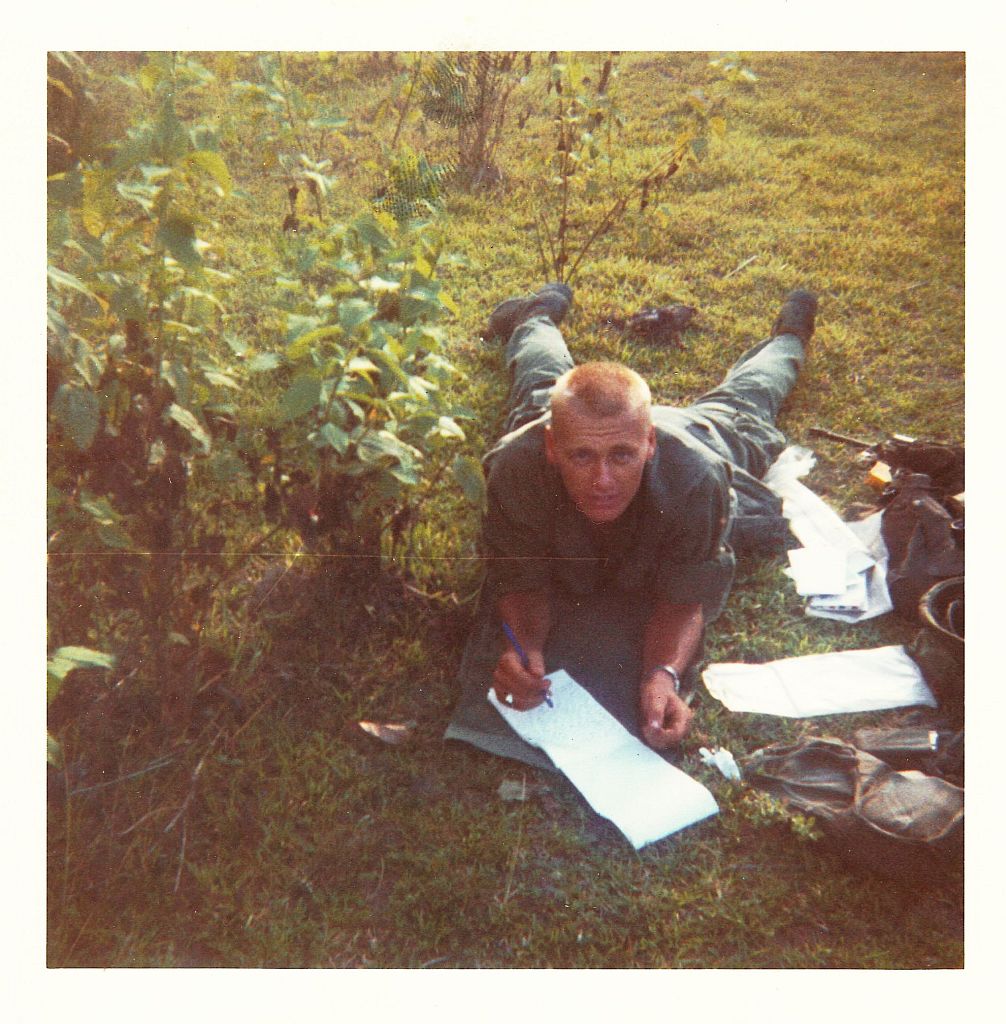 Lyle D. Hawn "Hando" Perry, Iowa.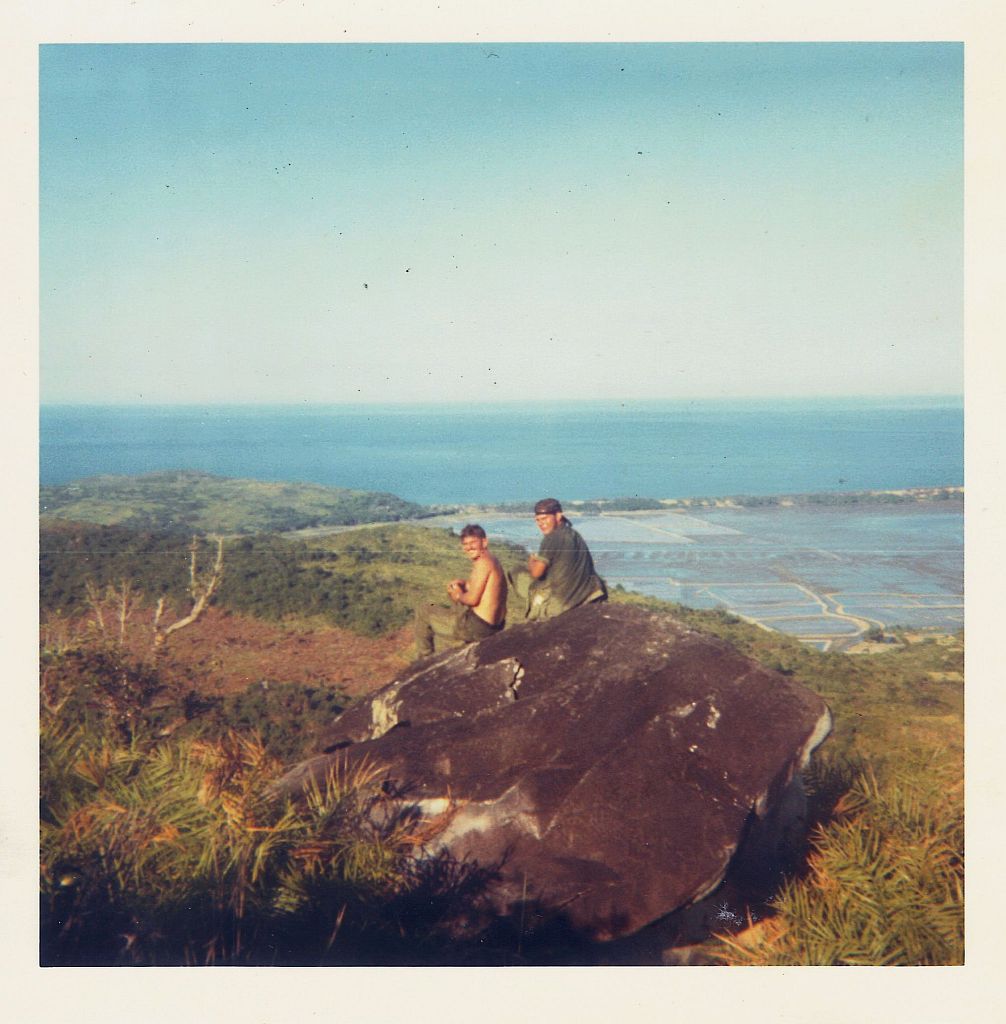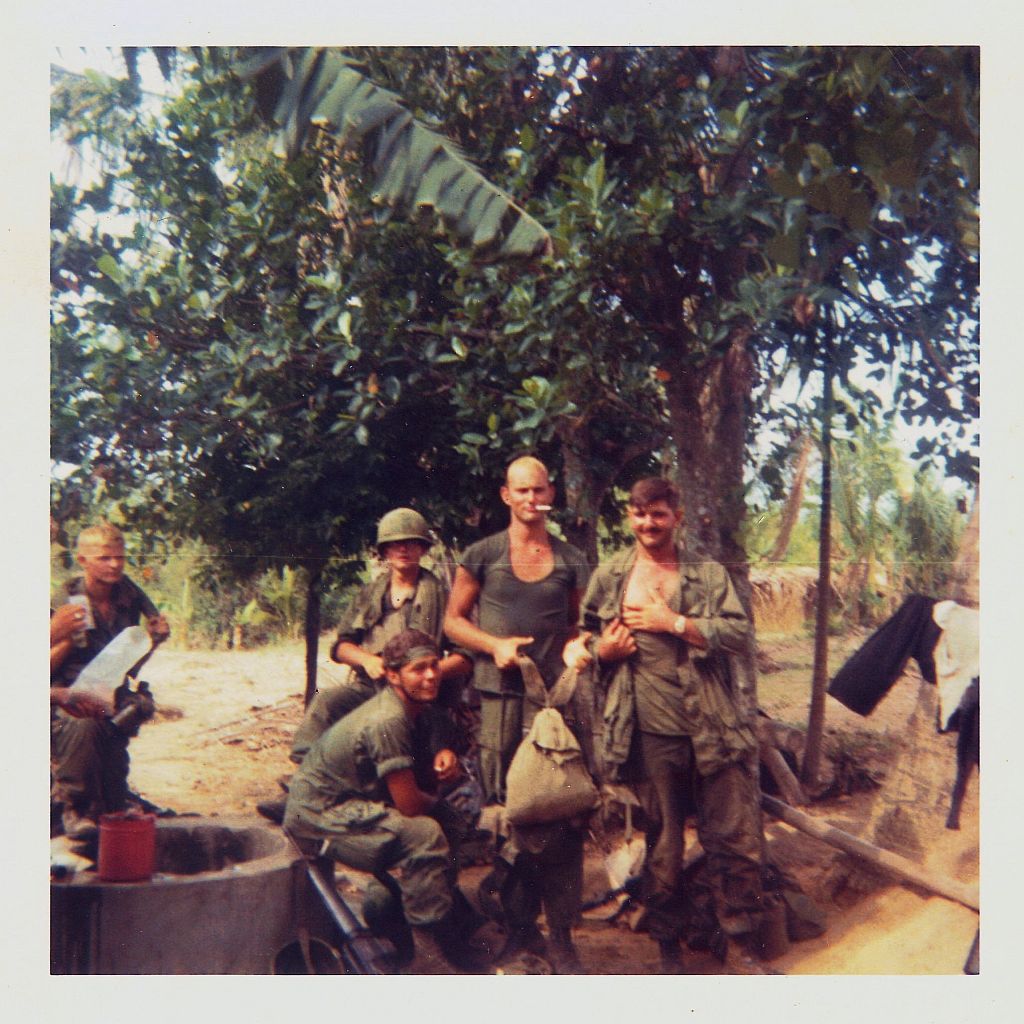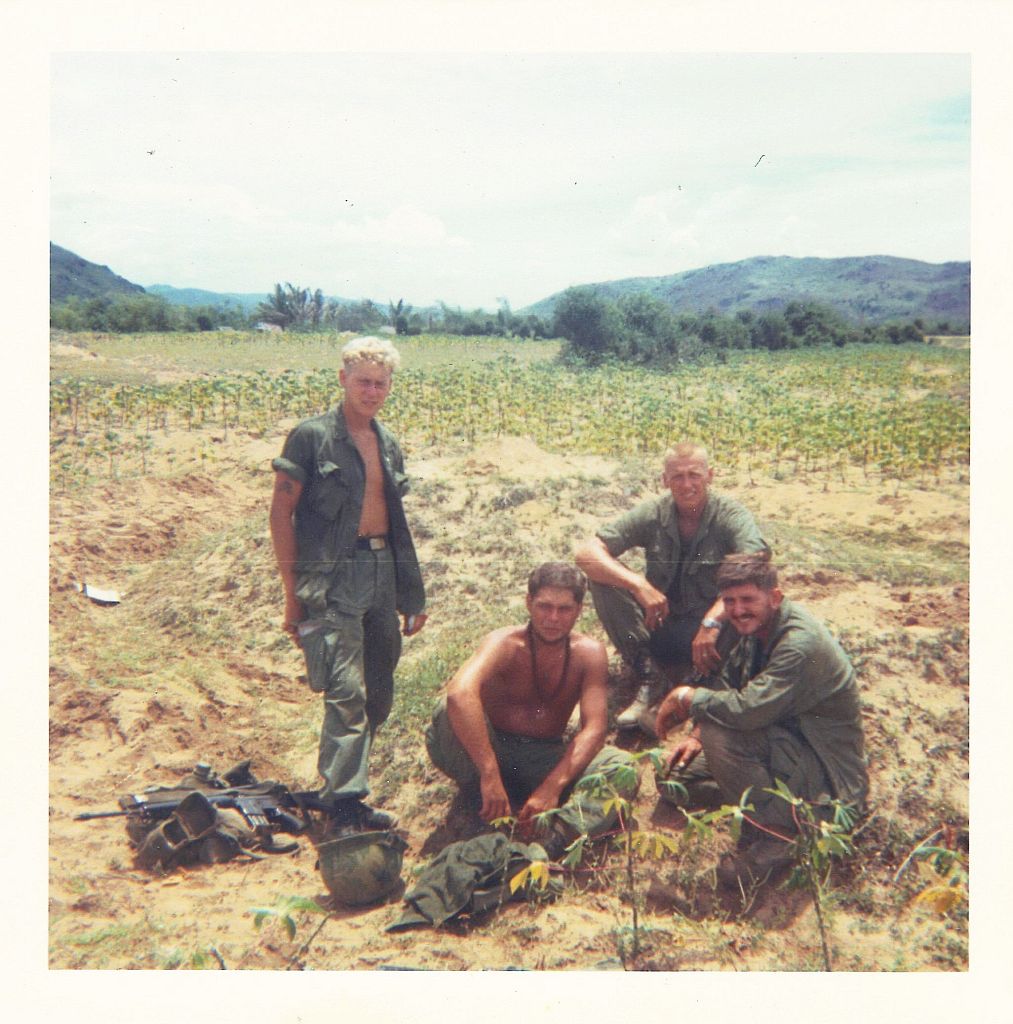 The guy on the right with the mustache is Ron "Mouse" Demirjian. He and Hughes were good friends.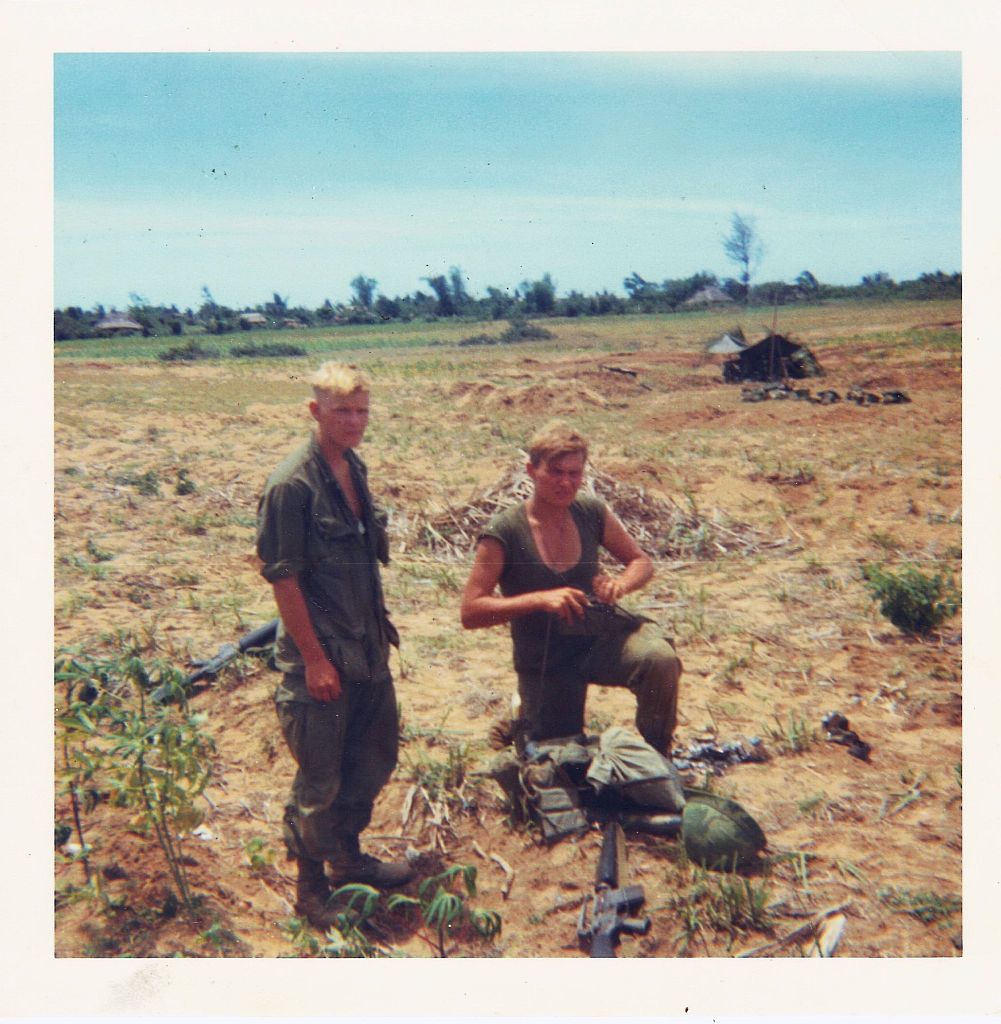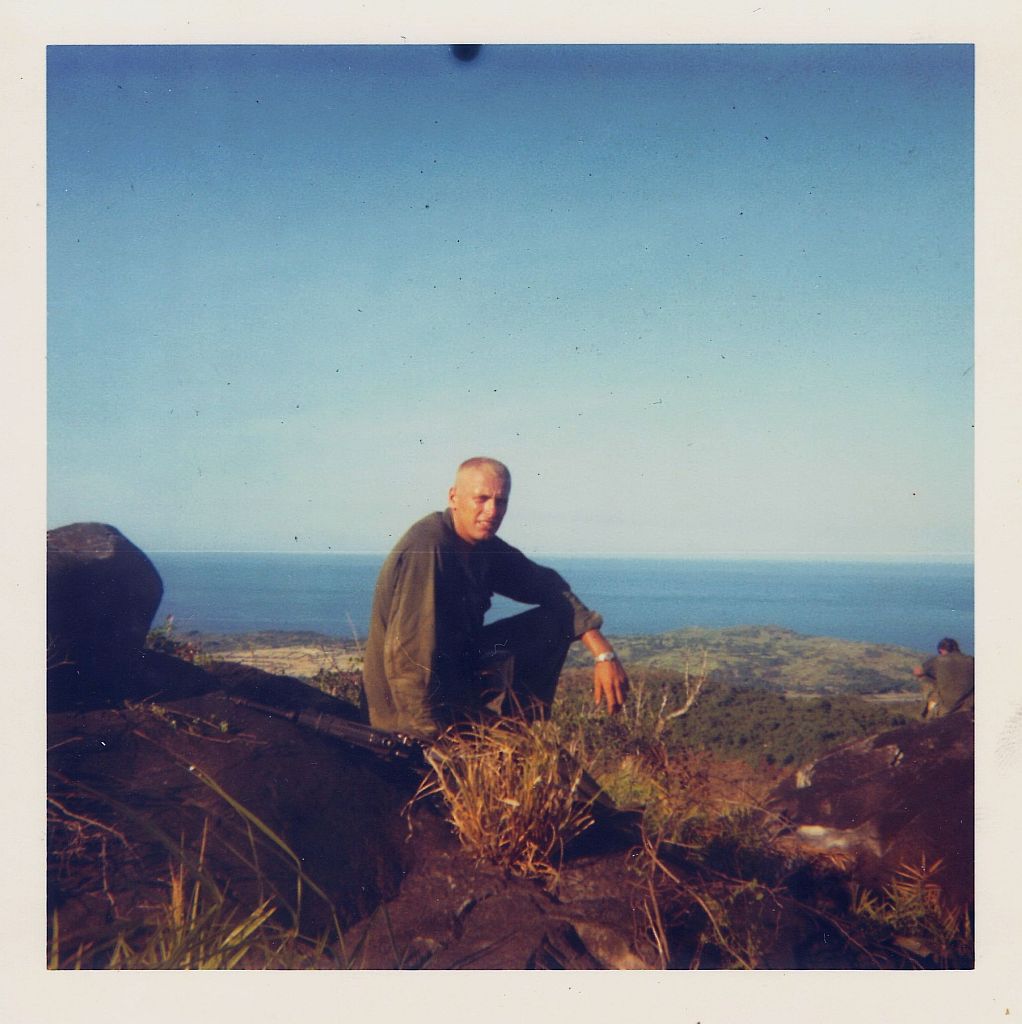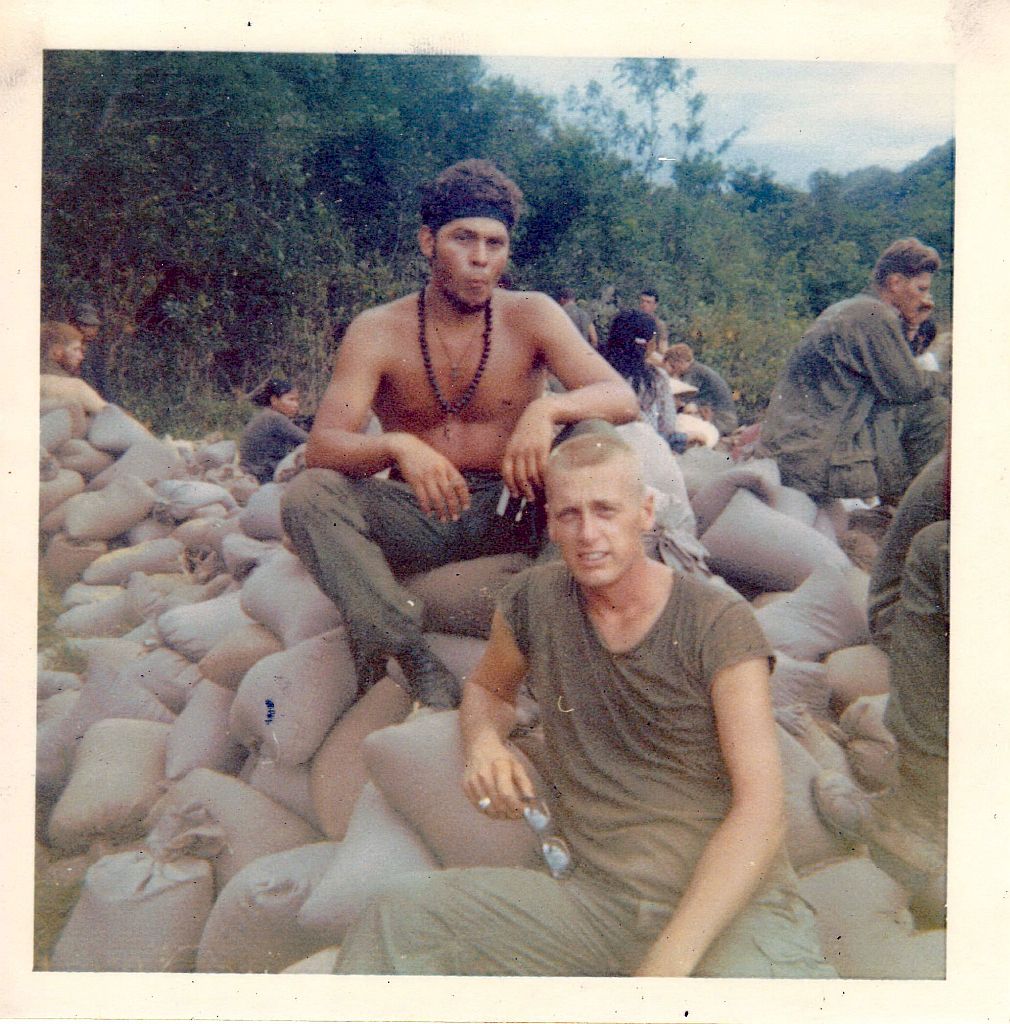 Charles Milano "Chooch" New York. According to records, Milano was KIA in October 9th 196 Link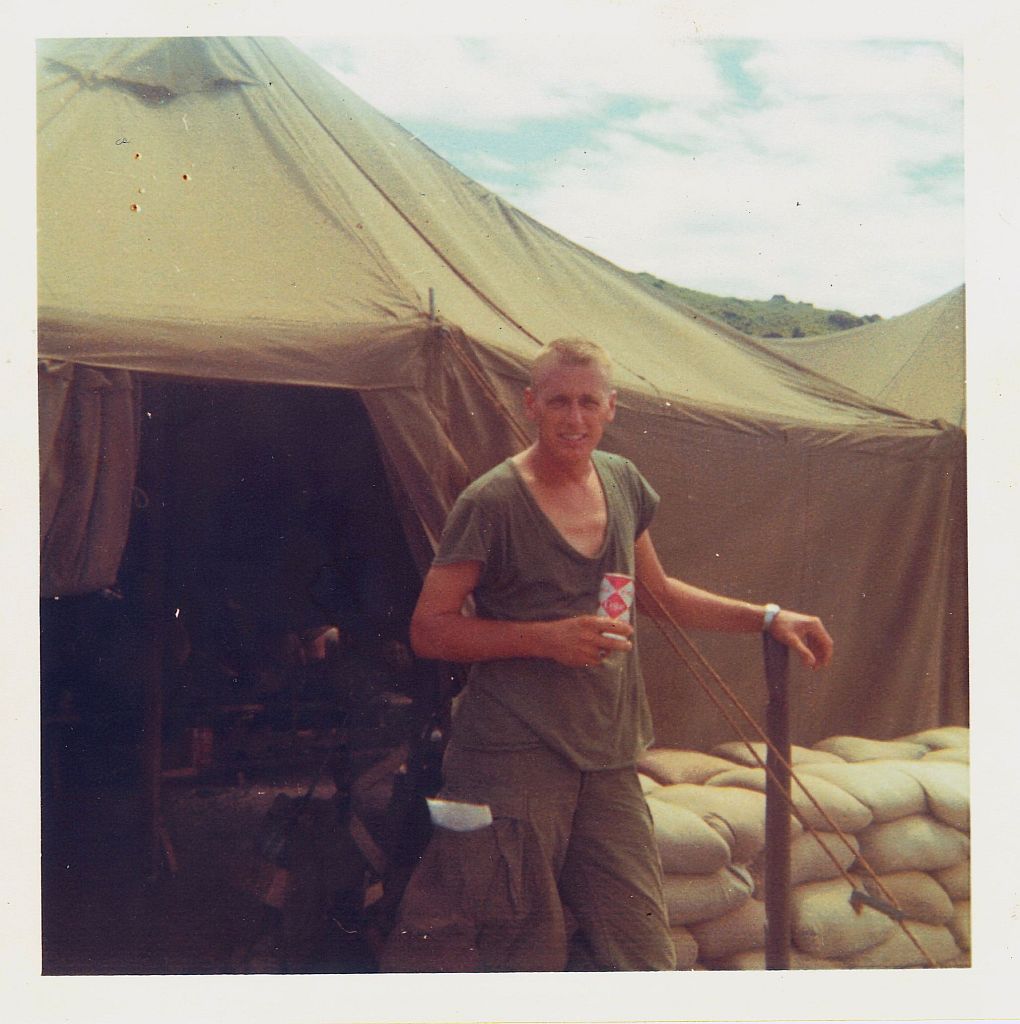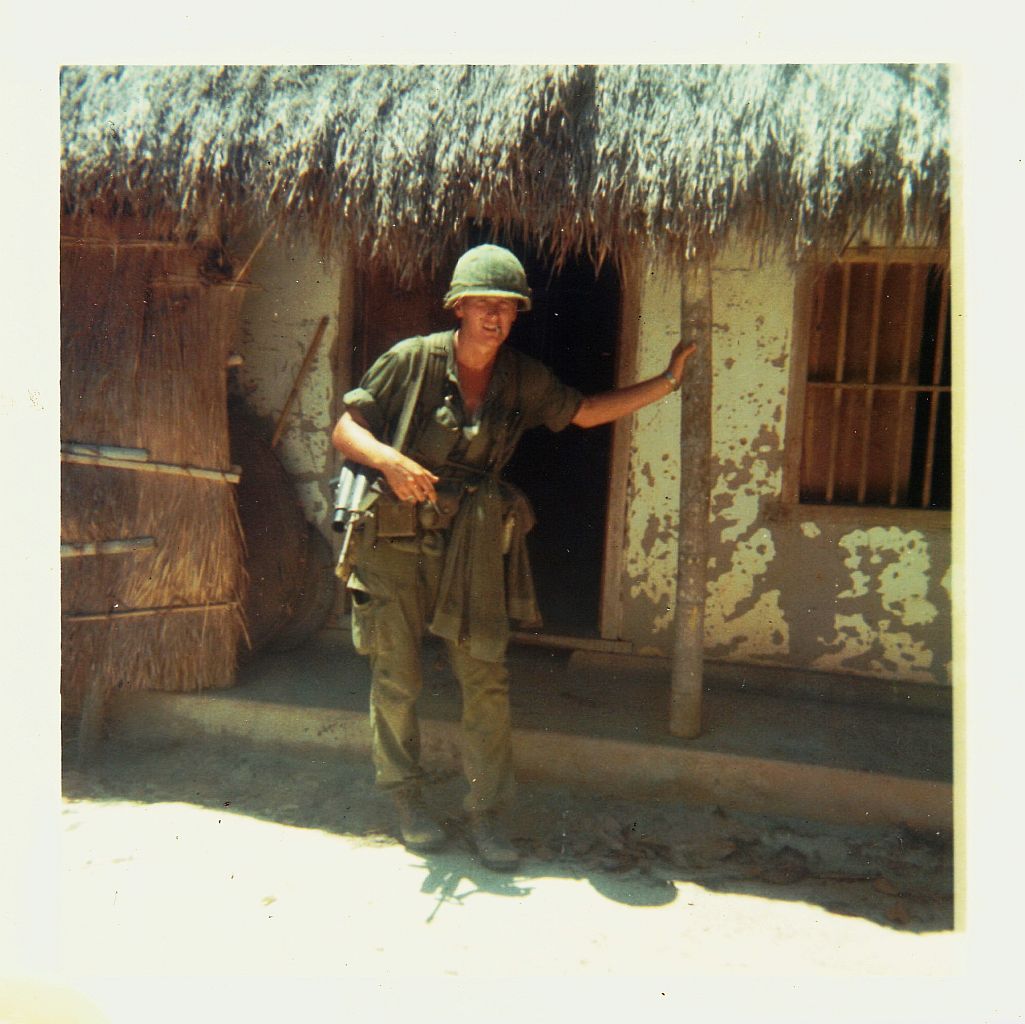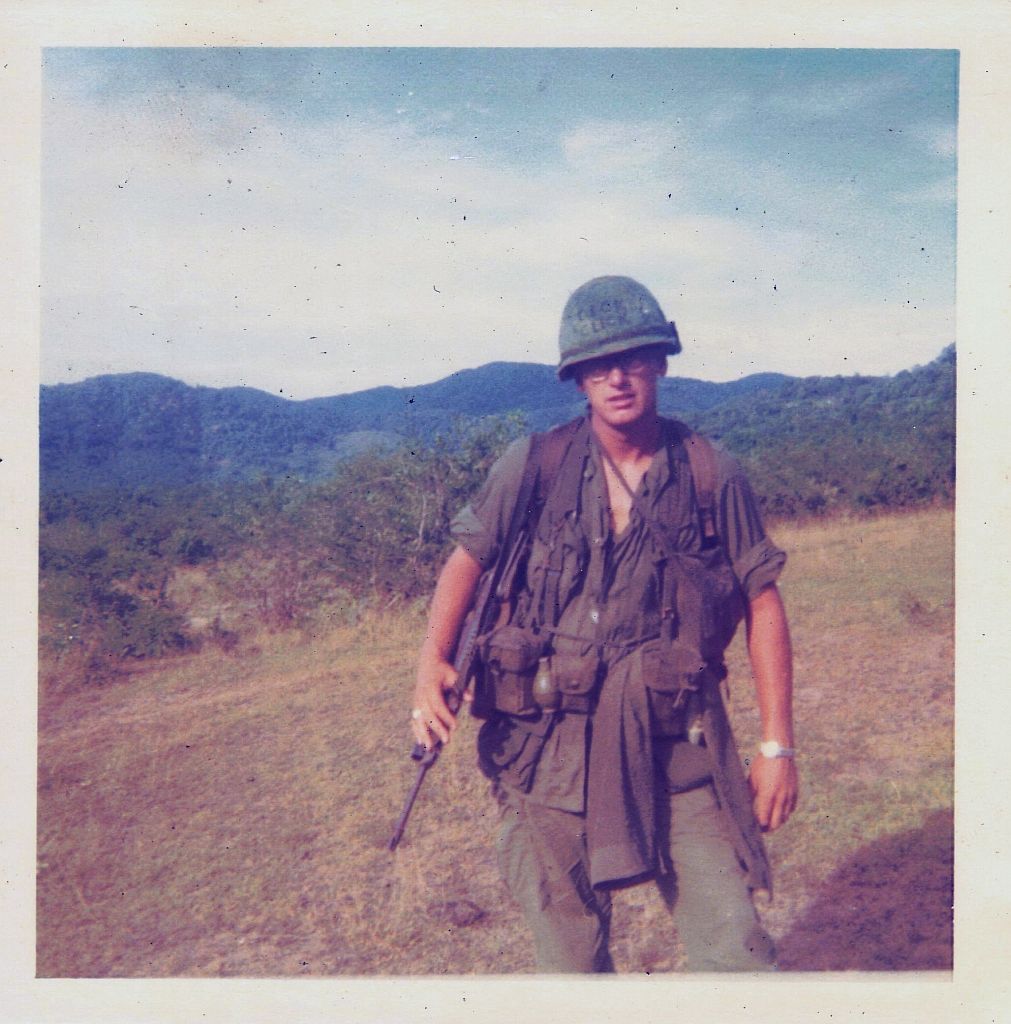 Art Hughes thinks the photo album probably covers the entire year Johnson was overseas. "Dicks Click" written on Johnson helmet, was early 67 according to Hughes. Later photos in the album where the guys are wearing soft hats and later sweaters, was when the guys were up north in early 68.