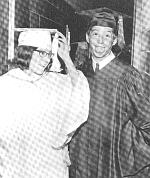 The 35th Infantry Regiment Association salutes our fallen brother, PFC Steven Dean Smith, who died in the service of his country on April 15th, 1968 in Kontum Province, Vietnam. The cause of death was listed as Small Arms/AW. At the time of his death Steven was 20 years of age. He was from Bellville, Ohio. Steven is honored on the Vietnam Veterans Memorial at Panel 06E, Line 83.

The decorations earned by PFC Steven Dean Smith include: the Combat Infantryman Badge, the Bronze Star with V, the Purple Heart, the National Defense Service Medal, the Vietnam Service Medal, the Vietnam Campaign Medal and the Vietnam Cross of Gallantry with Palm Unit Citation.



---
Steve is buried in the Bellville Cemetery in Bellville, OH.
*************************************************************

Just remembered you said if I would like to share some thoughts
about Steve; He was a good friend and a good man. He volunteered because it was the right thing to do! I have never stopped thinking that I should have been there with him but it just didn't happen that way. One thing I do know. He would be laughing if he could see me get up in the morning with all of my aches and pains as he is Forever young . If there is anything I can do for you or your guys just ask.

Bill Worner
user276076@aol.com
*********************************************************************
(His BSV Citation)

Award Of The Bronze Star Medal For Heroism

For heroism in connection with military operations against an armed hostile force in the Republic of Vietnam. Private First Class Smith distinguished himself while serving as a Rifleman with C, 1/35th Infantry. On 15 April 1968, Company C was conducting a search and destroy operation off LZ Mile High. As they cautiously moved through the dense jungle underbrush, a large well-camouflaged NVA force launched an intense barrage of mortar and automatic weapons fire at their position. Several men were wounded during the initial volley. As enemy snipers in well-concealed positions in nearby trees increased casualties, Company C began to pull back to regroup and take effective positions. To cover their movement, Private First Class Smith maneuvered through the heavy enemy fire to reach a position to supply effective cover fire. Reaching his objective, he produced highly effective return fire which neutralized the hostile positions and provided cover for his comrades to evacuate the wounded and move to more effective positions. Maintaining his position until the remainder of his unit was repositioned, he began moving back to rejoin them. During this movement he was mortally wounded by the hostile fire. His courageous and skillful actions clearly prevented more serious casualties and enabled his unit to take effective positions safely. Private First Class Smith's exceptional courage, preserving concern for the welfare of his comrades, and exemplary devotion to duty are in keeping with the highest traditions of the military service and reflect great credit upon himself, his unit, and the United States Army.