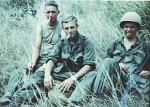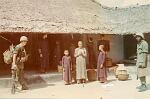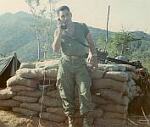 The 35th Infantry Regiment Association salutes our fallen brother, PFC Charles Michael Yates, who died in the service of his country on January 21st, 1967 in Binh Dinh Province, Vietnam. The cause of death was listed as Small Arms/AW. At the time of his death Charles was 21 years of age. He was from Dallas, Texas. Charles is honored on the Vietnam Veterans Memorial at Panel 14E, Line 65.

The decorations earned by PFC Charles Michael Yates include: the Combat Infantryman Badge, the Silver Star, the Bronze Star, the Purple Heart, the National Defense Service Medal, the Vietnam Service Medal, the Vietnam Campaign Medal and the Vietnam Cross of Gallantry with Palm Unit Citation.



---
Burial: RESTLAND MEMORIAL PARK, DALLAS, TX

Silver Star Citation

Private First Class Yates was serving as a rifleman of the Third Platoon of Company A, 1st Battalion, 35th Infantry while on a search and destroy mission. The unit was brought under fire by a sizable enemy force armed with automatic weapons. Private Yates was wounded in the initial contact but refused to be evacuated, choosing instead to help the other wounded personnel. Moving through the heavy fire fight in order to reach the other wounded personnel and render medical aid, Private Yates successfully treated one of the wounded men and assisted him to safety, he returned to aid the other wounded personnel. But as he moved through the embattled area, his movements were detected by the enemy and he was fatally wounded. Private Yates actions undoubtedly saved the lives of several of his wounded comrades. His outstanding aggressiveness, devotion to duty and personal bravery are in keeping with the highest traditions of the military service and reflect great credit upon himself, his unit, and the United States Army.