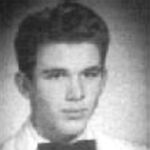 The 35th Infantry Regiment Association salutes our fallen brother, PFC Robert Julian Davis Jr., who died in the service of his country on August 7th, 1967 in Quang Ngai Province, Vietnam. The cause of death was listed as Booby Trap. At the time of his death Robert was 20 years of age. He was from Galena, Maryland. Robert is honored on the Vietnam Veterans Memorial at Panel 24E, Line 86.

The decorations earned by PFC Robert Julian Davis Jr. include: the Combat Infantryman Badge, the Bronze Star with V, the Purple Heart, the National Defense Service Medal, the Vietnam Service Medal, the Vietnam Campaign Medal and the Vietnam Cross of Gallantry with Palm Unit Citation.



---
Buried in GALENA CEMETERY, GALENA, MD

Bronze Star with "V" Device Citation, General Orders 2739, HHC, 4th Inf. Div.
For heroism in connection with military operations against an armed hostile force in the Republic of Vietnam. On 7 August 1967, PFC Davis distinguished himself while serving as a Rifleman in Company A, 1st Battalion, 35th Infantry. His platoon was on a combat patrol in an area of known enemy activity near La Van when it came across a trail leading through the dense vegetation. PFC Davis and several others were detached to provide security along the trail while a reconnaissance was made. As they progressed up the trail, the point man unintentionally entered a mine field and was wounded when he detonated an enemy anti-personnel mine. Disregarding the extreme danger and thinking only of the welfare of his comrade, PFC Davis ran forward into the mine field and picked-up the fallen man. As he carried the man back to safety, he also stepped on a mine and received serious wounds from the explosion. Both men were medically evacuated immediately, but PFC Davis succumbed to his wounds shortly thereafter, His unselfish and heroic action at the cost of his life is in keeping with the highest tradition of the military service and reflects great credit on himself, his unit, and the United States Army.