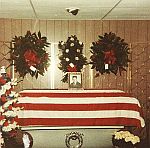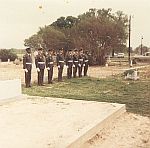 The 35th Infantry Regiment Association salutes our fallen brother, SGT Guye Raymond Benson, who died in the service of his country on March 21st, 1967 in Kontum Province, Vietnam. The cause of death was listed as Small Arms. At the time of his death Guye was 24 years of age. He was from Kemp, Texas. Guye is honored on the Vietnam Veterans Memorial at Panel 16E, Line 129.

The decorations earned by SGT Guye Raymond Benson include: the Bronze Star with V, the Purple Heart, the National Defense Service Medal, the Vietnam Service Medal, the Vietnam Campaign Medal and the Vietnam Cross of Gallantry with Palm Unit Citation.



---
Guye was attached to C, 2/35th from his parent unit, Battery C, 2/9th Artillery

Guye is buried in Shiloh Cemetery in Kemp, TX

(His BSV Citation)

Award Of The Bronze Star Medal For Heroism

For distinguishing himself by conspicuous heroism in connection with military operations against an armed hostile force in the Republic of Vietnam. On 21 March 1967, Sergeant Benson was serving as Reconnaissance Sergeant with Company C, 2/35th Infantry, attached from C Battery 2/9th Artillery, on a search and destroy mission in the Plei Trap Valley. The company made contact with an estimated battalion-size enemy force and received intense small arms and automatic weapons fire. Sergeant Benson, realizing the need for supporting artillery fire, immediately rushed through the hostile fire in order to reach the company forward observer and aid him in calling-in artillery. When it became clear that radio contact could not be established, he moved into position and aggressively engaged the enemy. His intense and accurate fire forced the enemy to concentrate on his position. While successfully holding the enemy in check, he was mortally wounded. Sergeant Benson's conspicuous and inspiring gallantry was instrumental in effectively repelling the hostile attack. His outstanding display of heroism and determination is in keeping with the highest traditions of the military service and reflects great credit upon himself, his unit, and the Unites States Army.