REUNION HOTEL INFORMATION. AS OF 8/11/2015
If you are attending the reunion and haven't made hotel reservations yet, there are only a couple of rooms left. They may be gone already.
In either case below you need to make your reservations ASAP, even rooms at the Comfort Inn and Suites could go fast!
Please call Peyton Canfield @ 619-297-1101 to make your reservations. She is the group sales person at the Crowne Plaza I'm working with.
If not, then I have just contracted the Comfort Inn and Suites near the Crowne Plaza
2485 Hotel Circle Pl., San Diego, CA, 92108
619-881-6200
King Room $109 + tax
Double Queen $109 + tax
Includes Breakfast and Parking
Doc Johnson
President's Message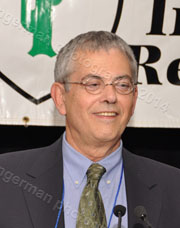 War brought the members of our Association together, and its effects linger. That's why each annual reunion serves to bring us closer – not just to the past but more importantly, to the present. Together, we process memories and help heal wounds. My sense is that the Cacti experience has taught me more than nothing else could have.
Each gathering is really a source of renewable energy for the 35th Infantry Regiment Association. We have a lot in common, certainly, and love each other's company. Members share visits throughout the year and many search for other Cacti – both the living and the dead; the latter for whom grave sites are located and recorded for others to pay their respects. Former President Doc Hall, B Co. 2/35, is particularly devoted to this research. He has been hugely successful.
Now, we're approaching our 17th annual reunion Sept. 24-27 at the Crowne Plaza, San Diego. Secretary and Past President Doc Johnson, Recon PLT, 2/35, already has added room nights to accommodate those attending. The venue and location this year are especially attractive; there is no shortage of things to do whatever your interest or age group. I hope you plan to attend and will invite another to join us, as well.
Its been my privilege to serve as president of your Association since the 2013 Virginia Beach reunion. I value the experience and those whose knowledge and work as board directors have served to keep our organization healthy, vibrant and inclusive. We have good reason to be proud of our community of Cacti veterans, spouses and friends.
Thank you for making all this possible. I will see you in San Diego!
Bill Henson, President 35th Infantry Regiment Association
Are you a Facebook user? If so you might want to join the group 35th Infantry Regiment Association run by Bill Henson.
35th Infantry Regiment Monument at Ft Benning Walk of Honor
Monument Dedication Photos Posted (View Here)
Follow the link below to view Video of the Monument Dedication Ceremony
The War Stories Section has turned into a huge success with almost 50 stories written by our Cacti Members. Got a "Cacti Story?" It can be a battle story, A funny or sad story. Just put it down the way you remember it. If you want a "creative license" to embellish a little you got it. Only rule is not to be malicious.
Submit them to Wiley "Tiny" Dodd by Email, today!

The Spring 2015 Issue of the Cacti Times, John Lorts, Editor and Bill Henson, Associate Editor, is out.
Here's a sample of page one of this issue. If you haven't seen the electronic color version Click Here to see what you're missing. Members wishing to change from a Mailed to Emailed Times may email Don "Doc" Johnson, our Secretary, to Sign Up.
Health & Welfare. Do YOU know someone in Need??
The Association's Health and Welfare Account currently has a very positive balance. To date, there has been only one request for financial assistance for the fiscal year of 2014. Obviously more requests could be accommodated, but we have no knowledge of these situations. But maybe YOU can help from today and into the future. Should you be aware of a Cacti Brother that has fallen on hard times, suffered a loss such as a hurricane or a flood, has medical issues and is uninsurable, or anything else that cries for help, please be his ombudsman. These Health and Welfare funds were donated by you, our caring members, to be used for those in need not just to be saved for a rainy day. Please let us know about your brothers in need.
If you know of someone in need, or are that someone, please contact Pete Birrow by email by clicking HERE.
ALL information is kept confidential
PROUD TO BE A CACTI
SEVEN 2015 Scholarships Awarded !!
Cacti generosity is again on parade. Earlier this year, letters were sent to our members requesting donations to our Scholarship Fund. We believe this is an important project for our Association and and our Cacti Members agreed. Only through the support of so many are we able to increase the number of recipients this year.
With grateful thanks to our many contributors the 35th Infantry Regiment Association is proud to announce the Award of Seven Scholarships in the amount of $1500 each to the following:
Brandon Rodriquez: Grandson Frank Kravarik, G Co, 2/35th 1952-54
Alexander Gillett: Grandson Howard Johnson, B Co 1/35th 1968
Haylee Powell: Granddaughter Don Kieth, FO 2/9th Arty with B Co, 1/35th 1967-68
Madeline Snider: Granddaughter Thomas Snider, C Co 2/35th 1966-67
Riley Wagner: Grandson Richard Matheis B Co 2/35th 1970 KIA
Samuel Byrd: Grandson William Byrd, A Co 2/35th 1962-66
Anna Strong: Granddaughter Don Keith, FO 2/9th Arty with B Co, 1/35th
BATTLEGROUND: 4th INFANTRY IN VIETNAM
Here is another YouTube film we thought you might enjoy. The story of the "Ivymen" in Vietnam, from their arrival in 1966 through the critical Battle of Dak To in the winter of 1968.Approximately 25 minute long it is a good depiction of our piece of the war.
https://www.youtube.com/watch?v=aFZhmWyVE_A
FACES NEVER FORGOTTEN WITH JOE GALLOWAY
This short film, from youtube is about Joe Galloway's experiences as a reporter in Vietnam and his coming to grips with them following the war. We thought you might enjoy this short but emotional clip. Simply click on the link below to view.
Vietnam KIA Photos Needed
Dick Arnold, Doc Hall, and Pete Birrow have been gathering KIA Photos for a number of years. Their work has added immensely to our mission to memorialize our war dead. But we still need a few more. Click Here to view a list of Vietnam KIA photos needed. If you're a fellow Cacti, or a friend or family member, please consider sending a photo to Dick Arnold at his Email address.
Vietnam War - Gravesite Location Project
Doc Hall and Pete Birrow have been compiling a list of gravesites for our Vietnam KIAs for some time now. Through personal visits and searches on the web they have located hundreds. The information is now available by Clicking Here. If you have personal knowledge of a gravesite not found on the list, please contact Doc Hall at his Email address